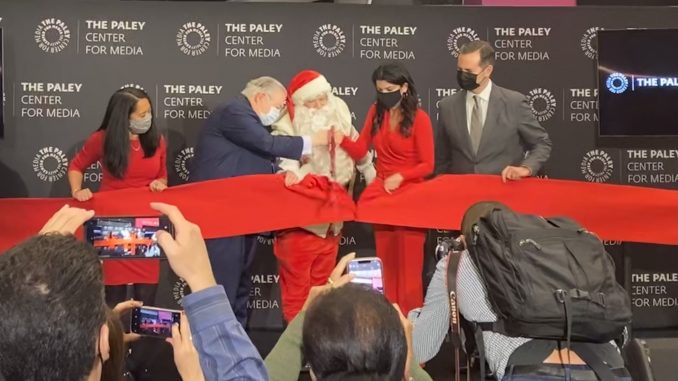 By STEPHANIE ROSERO
Thursday was the grand reopening and ribbon-cutting ceremony of the Paley Center for Media. The center will be open to the public on Saturday, for the Center's fifth annual special exhibit, PaleyLand.
The Paley Center for Media is a nonprofit organization that allows visitors to experience discussions about the significance of television, radio, and emerging media. The Center offers programs designed to educate, entertain, and impact the public.
Thursday was the first time in 21 months that the museum had been opened to the public, the shutdown due to the pandemic. Frank A. Bennack Jr., chairman of the Paley Center and vice chairman of the Hearst Corporation, said, "Today we celebrate a new chapter for the Paley Center, as we kick off our first in-person event since the beginning of the pandemic."
Maureen J Reidy, president and CEO of The Paley Center introduced the new exhibition to the media. "Just steps from Rockefeller Center PlayLand has taken its place on the holiday calendar as a favorite New York holiday tradition. We invite visitors to hop aboard the Paley express and experience four floors of holiday magic," Reidy said.
The four-floor multimedia interactive exhibit will run for a month. The exhibit consists of photographs with Santa Claus or the menorah, arts and crafts, character meet-and-greets, PaleyGX Gaming, a Paley Archive Holiday Collection, magical backdrops for social media — and The Paley Express, which is a holiday train display.
This holiday season PaleyLand will be filled with special events such as LEGOMasters Build Demo, Celebrate the Dollidays with American Girl, and an audience Q&A with Scarlett Estevez from the new Disney Channel Original Movie "Christmas Again?!" "PaleyLand truly offers a one-stop-shop holiday extravaganza for visitors of all ages. There's something for everyone here to enjoy," Reidy said.
Anne del Castillo, the commissioner of the New York City Mayor's office of Media and Entertainment and Fred Dixon, president and CEO of New York City & Company. "The Paley Center remains a leading voice in the discussion about how people experience media and entertainment committed to the idea that radio, television and emerging media platforms are an important part of cultural and social landscape that should be preserved, discussed, debated, and enjoyed for many generations to come," said Castillo, a member of the Paley board of trustees.
The Paley team has been monitoring city, state, and federal guidelines to keep PaleyLand COVID safe. Everyone 12 years of age and older will need to be vaccinated to be able to attend, and children over the age of two must wear masks indoors.
The conference ended with a surprise visit from Santa Claus, a ribbon cutting; photo-ops and a tour of the PaleyLand exhibit.