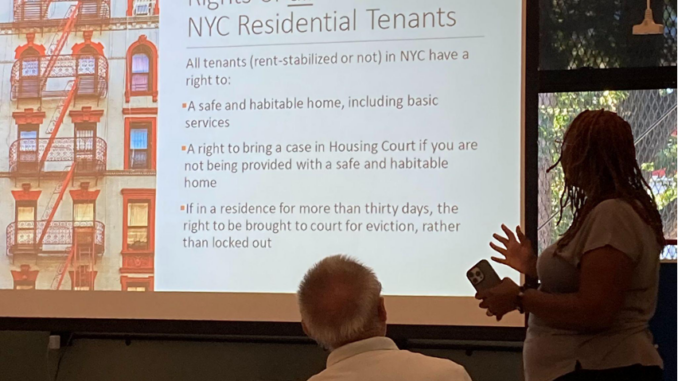 By ANDY OLIVAN
Frustrated tenants gathered at the Flatbush Public Library in Brooklyn to meet with representatives of tenant-based organizations to learn how to protect themselves against landlords. The August 31st meeting was the second in a series of six free workshops on tenants' rights and tenant organizing.
This series is a collaboration of Tenant Union Flatbush, Flatbush DSA, and the Legal Aid Society. The workshops, held every other Thursday, and cover a range of topics such as researching landlords, organizing to get repairs made, and calling for a rent strike.
"There's power in numbers," said Nell Hirschman-Levy, 43, a Supervising Attorney for the Housing Justice Unit called Group Advocacy for the Legal Aid Society. "Part of why we do the work that we do in representing groups of tenants is because we really want to see the relationship between a landlord and tenants change."
The Legal Aid Society is a non-profit legal aid provider for low-income New Yorkers. Hirschman-Levy stated that her unit works with groups of tenants in multiple buildings who've been abused by landlords to come together and take them to court instead of being on the defensive side.
Tenants' complaints include landlords not making repairs, mold, leaks, no heat or hot water, harassment, and illegal rent increases. Hirschman-Levy's unit also examines the rent history of buildings to catch illegal rent increases.
A tenant named Wendy, who chose to give only her first name, lives in a co-op apartment which isn't a rent-stabilized apartment (defined as an apartment in a rental building of six or more units built before 1974). "People think 'Oh, I just pay my maintenance, the rent basically, and we don't have to be concerned about anything,' and that's not how it works, you got to stay informed."
The workshop leaders explained key tenant rights: tenants have a right to a safe and habitable home, the right to bring a case in Housing Court, to be free from discrimination and the right to organize without landlord interference.
Tenants are also entitled to a written lease. The lease can't be changed while it's in effect unless both parties agree. They have a right to a lease renewal when their initial lease ends. Landlords are expected to deliver a renewal between 90 and 150 days before the current lease expires.
"We do have rights, the trick is it's up to us to enforce them," said David Jenkins, 37, a volunteer organizer with Tenant Union Flatbush.
This is important because about one million apartments are covered by this rent regulation system established in 1969. It keeps families in their homes and in stabilized apartments.
On a 5-4 decision vote from the Rent Guidelines Board in June, building owners will be allowed to increase their monthly payments by up to 3% for a one-year lease. For two-year leases, they can increase the rent by 2.75% in the first year and then another 3.2% in the second year. These increases would apply to leases issued or renewed from October 1st through September 30, 2024
"We live in a city that often gives a lot of breaks to people with money and doesn't consider low-income working-class folks," said Hirschman-Levy. "We should be focusing on what are the resources that are needed to prevent these evictions and what's going on in our city that these evictions are taking place at the rate that they are."