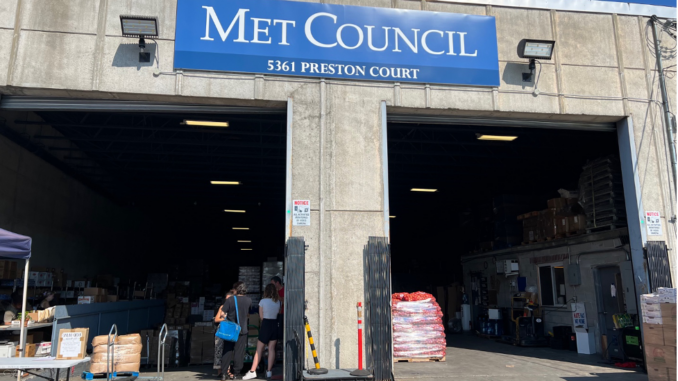 BY GISSELLE BAEZ
Met Council is bridging a gap in New York City with a program that helps both people with religious dietary restrictions and everyone else in need of food in a time where other pantries aren't providing both.
"There are so many different dietary restrictions, religious restrictions, or just ethical restrictions that people have and sometimes it's hard to navigate when you're food insecure to find places that can provide for you," said Taylor Cohen, 26, the manager for Met Council's food pantry in East Flatbush, Brooklyn.
A Met Council study found that food pantries generally do not have adequate funding to pack the food that halal and kosher communities need. "When asked if our attendees get sufficient government support to operate their pantries, 89 percent disagreed, and 58 percent reported that it was either difficult (37 percent) or very difficult (21 percent) to pack a balanced pantry bag with their current inventories," their study reports.
Furthermore, the study found that because many Jewish and Muslim homes are larger than the average American household, "pantries must not only provide enough food to accommodate household size but also account for the difference in nutritional needs across a large age range" when making pantry bags. Which they say makes it difficult when these pantries don't get enough funding.
The Met Council food pantry in East Flatbush operates four days a week from 1 p.m. to 3p.m. People in need of food can go to their website and register to get a food package that is suitable for their needs or can place an order for food on-site when they arrive.
According to its website, Met Council "operate(s) the largest kosher food distribution program in the world. Our network serves an average of 95 pantries a month, 20 of which are halal emergency food pantries."
The Met Council is a Jewish non-profit charity organization in New York City that started in 1972. Their community outreach ranges from advocacy to social services. They operate 14 food pantries across the city. They specialize in providing emergency food that fits the dietary needs of Halal and Kosher families and partner with other partner pantries also offer food packages to anyone who needs food.
"Our 22,000 square foot warehouse enables us to store and distribute millions of pounds of kosher and halal emergency food to an average of nearly 100 pantries a month throughout the tri-state area," said the Met Council in a report posted on their website.
An anonymous 39-year-old woman came to the food pantry to get food for her family for the week says they wouldn't be able to get access to healthier food options if it wasn't for the pantry.
"Without the pantry I wouldn't be able to get certain foods like vegetables and fruits because everything is so expensive now," she said. "I shouldn't and I won't live off junk food every day."