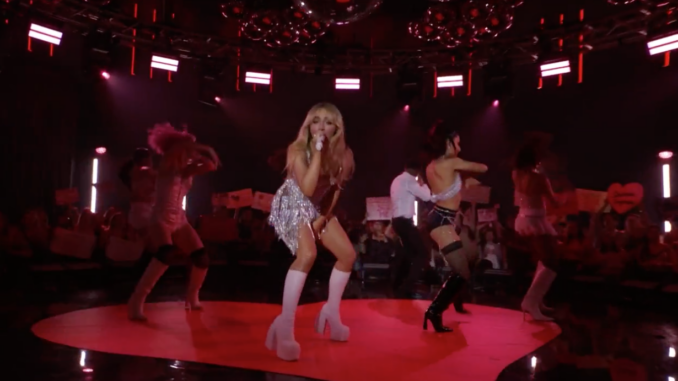 BY JOSH NARISMA
Although fans had the opportunity to watch American singer Sabrina Carpenter perform for free at the Prudential Center in Newark, the actual price of their attendance became exceedingly clear: they were used as props. From the audience perspective, it may seem like the MTV Video Music Awards (VMAs) occurs at the same time as the pre-show, which contains over an hour of celebrity performances and interviews. In reality, major portions of the pre-show are filmed several days prior, as uncovered by a reporter's visit.
Such was the case for Carpenter, who was this year's major pre-show performer alongside NLE Choppa. Carpenter's medley of her songs "Feather" and "Nonsense" was shot on the evening of September 9th, three days before the actual VMAs. Edited footage of her performance was aired alongside other pre-show content on September 12, some of which was streamed live via the MTV Youtube channel.
The attendants of Carpenter's performance, which numbered far lower than her usual large-scale concerts, are visible in the official video. The majority of the audience gained tickets through 1iota, an agency that offers exclusive passes to shows and musical events. The tickets were available in different tiers, with priority members checking in before the general audience, and given spots closest to Carpenter, directly behind the stage. The hall was modestly sized, and decorated with disco balls and red lights.
Several audience members managed to obtain tickets the previous night. "I was shocked when I got the email," said Jayla, who declined to give her surname. "I had applied through 1iota just the day before."
The official video, which features Carpenter's vocals and choreography, gives the impression that it was taken in one shot, which is not the case. In fact, Carpenter was directed by the staff to perform multiple times, with the final take culminating in an explosion of heart-shaped confetti.
"I had no idea they'd do that many takes," said an anonymous fan. "On TV, it looks so natural."
Audience members were also given signs showing support for Carpenter, with some posters featuring popular lyrics from her songs. The fans nearest to Carpenter were instructed to raise their signs at specific times, while the general audience was repeatedly asked to provide thunderous applause.
The crowd was given the additional opportunity to stay past Carpenter's performance and partake in a promotional video for Toyota, in partnership with MTV and Colombian artist Shakira. Audience members gathered outside with a group of Toyota cars and were handed posters and sweatshirts emblazoned with Shakira's face. Although the crowd was initially excited for the event, with several people even leaping forward to grab MTV signboards, they quickly grew frustrated at how many takes were required of them.
"They're not even paying us!" quipped one attendant, who joked with her friends that this was unpaid labor.
Jayla, who also chose to stay for the Toyota promo, even removed her boots at one point, saying, "I couldn't take it anymore, my feet hurt so much."
Not only was the crowd forbidden from keeping any merchandise, but the director also publicly chastised one audience member for appearing lackluster on camera. She took him by the shoulders and said, "I know you're tired from standing so long, but I need you to show more energy for me, okay?".
The crowd could not access their phones until after the event, as they were required to lock their devices in Yondr pouches. These pouches are openable only by staff members, and are meant to keep audience members 'present' during live music.
"I talked to some people who've gone to 1iota events before, and this is the worst it's ever been," said Jayla. "It was just so disorganized. I don't think I'd attend a pre-show event again unless it was someone I really cared about."