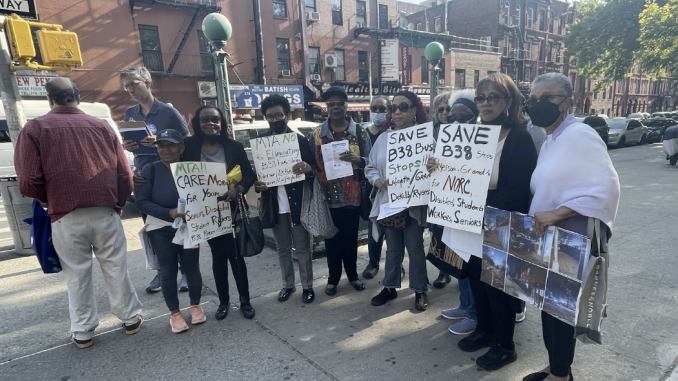 BY LUIS MONGE
On May 10, community members gathered at Franklin and Lexington avenues in Brooklyn to bring awareness about possible bus stop removals. 
According to residents, the Metropolitan Transportation Authority of New York plans to remove the Ryerson/Dekalb and Grand/Lafayette Avenue B38 Bus Stops.
These bus stops are important to the community for the seniors, handicapped, and college students in the area. 
Melva Hatcher, who is a resident of Brooklyn and has health problems, spoke about why she wants to see the bus route continue to operate. 
"I have arthritis, I don't walk with a cane, thank God, and if I have to get off at Foster Avenue, I feel threatened and I can't run to any place and if I fall I can't get up. I'm not as bad as others, but it's bad enough that if I have to walk all the way to Foster Avenue especially at night, it's just too long of a distance," Hatcher said. 
Hatcher shared how a neighbor struggles, as well, and uses a walker, emphasizing how critical the bus route is to the community.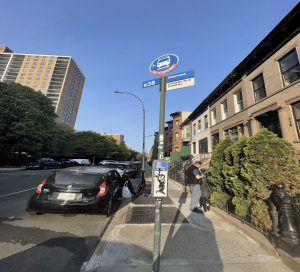 The removal of the bus stop impacts the elderly and handicapped, but also students and community members who rely on public transportation to get them to work, school and appointments. 
Marline Gooding, who is 73 and has lived in Brooklyn her whole life in the same apartment, shares the dangers if the bus stops are removed.  
"Guess where I walk? The bike lane, I rather take my chances with my life walking the bike lane. I wait for the light to change and walk the bike lane and I rather do that than walk pass the other bus stop that is in a dangerous area because you walk on the sidewalk near the bus stop where there is fencing and police cars that are parked perpendicular and I don't want to be trapped between the cars and the fencing where people would hide and wait to attack and steal from others," said Gooding. 
Safety at the bus stops are also top of mind for many commuters. 
"Anybody who's maybe hiding between any of these cars can come out and hurt me or kill me and guess what the police won't even know I'm dead or hurt until it's too late," saidGooding. 
Bus stops in the area see high traffic. Removing some would likely cause overcrowding at other stops. 
Marry Olf, who is in her 80s and a resident of the apartment near the bus stop, says that the MTA need to hear the residents' voices.   
"The transit needs to do better than what they're doing and they're thinking about the wrong things. Removing the bus stops will serve no purpose for the people and I've never heard anyone say we should remove the bus stops. Don't take it away from the start because you have all these elderly people and handicapped people here that depend on the bus stops," said Marry Olf.