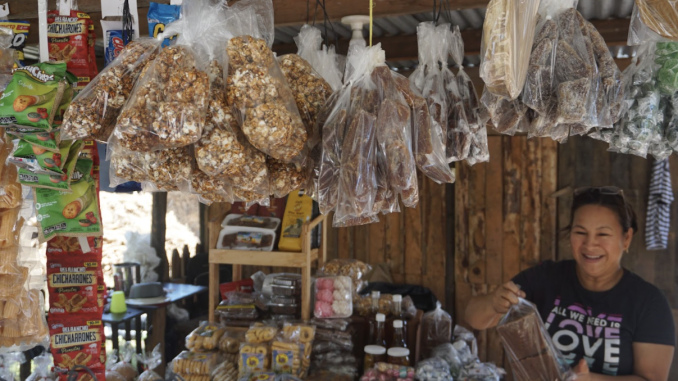 BY KAYLIN GUZMAN
When you think of honey, you may see a plastic jar shaped like a bear. You may think of the black and yellow fuzzy buzzing pollinators that create rows of hexagonal containers. 
However, there is a different way of making this sweetener, that may be less known, in Taulabé, Honduras.
Marcela Castellanos, one of the owners of La Casa del Dulce, works hard with her staff and family to provide the citizens of Honduras with sweet treats. 
She sells traditional Honduran breads such as roscias, alborotos – hardened balls of popcorn covered in honey – and batidos, honey that is mixed with other ingredients until it hardens from friction applied. 
When asked by a consumer why the juice she sells was not sour or acidic, Marcela Castellanos smiled."We call it guarapo. The juice, with time, becomes guarapo," Castellanos explained in her native language Spanish.
Guarapo refers to the sourness of the juice once it has been sitting for a few days. Castellanos explained that everything in her company starts from the very beginning. 
"We cut everything here freshly. Vendors that have guarapo cut the sugar cane and let it sit for a long time. The cane gets this favor of "chicha," as we call it here. Not here because it's fresh cane," she continued.
La Casa del Dulce starts their process from the very beginning. From planting the sugar cane to harvesting it and crushing out the juice to create some sweet treats.
"The business has existed for 30 years. The business of my father-in-law. My husband and I have been here for about eight years," said Castellanos.
The company has four workers on her property tending to production, as Castellanos tends to customers in her store right on the property. 
"The store out front is new because we wanted to keep our workers and customers safe during the pandemic," explained Castellanos.
Every worker has different responsibilities. Some fill models, others make sure the honey doesn't sit in one bath for too long, others make sure the sugar cane is actually being crushed to extract the necessary juice.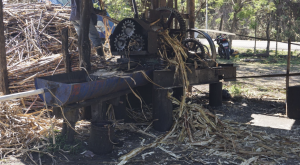 "I put the cane in this machine called the 'trapiche'," said Jesus Sanchez, a worker at the production site. "From here the juice travels through this tube into a pot that heats it up. It has to go through five different pots of different temperatures to then go into the models."
However, the sugar cane's use does not end there. After the juice is extracted, the leftover carcass is dried out in the hot climate of Taulabé. From there, it is introduced to the engulfing flames that are maintaining the heat for the boiling sugary liquid. Through a cloud of suffocating smoke that makes your throat and eyes itch, the juice starts to turn into honey.
From being a clear liquid, the sugar from the pressed sugar cane starts to solidify as it moves from pot to pot. When it has reached the right point of solidification, the substance is transferred to a tub where someone is constantly mixing it with a wooden spoon and picked up and placed in a model with a metal shovel.
"We use a shovel because it is a lot of product and the wood doesn't change the flavor of the honey stick," said Sanchez.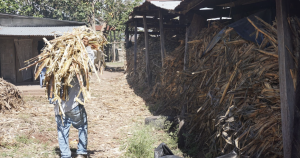 With the same shovel, they lift out product from the bath and start placing it in models. Once filled they are placed on a table that is felt to cool and harden. From there they wrap the honey and prepare it for customers to buy.
"We also sell honey to other distributors. So we offer them a space to sell their products because they use our honey. We support each other even though we are different companies," said Castellanos.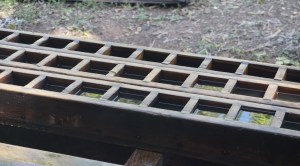 Many customers say they go out of their way to visit La Casa del Dulce.
"The products she makes are really good. When my family comes from the United States they always take things with them," said a loyal customer Dayanara Torres in Spanish. " It takes us 45 minutes to get here, but it is always worth it for the sweets."