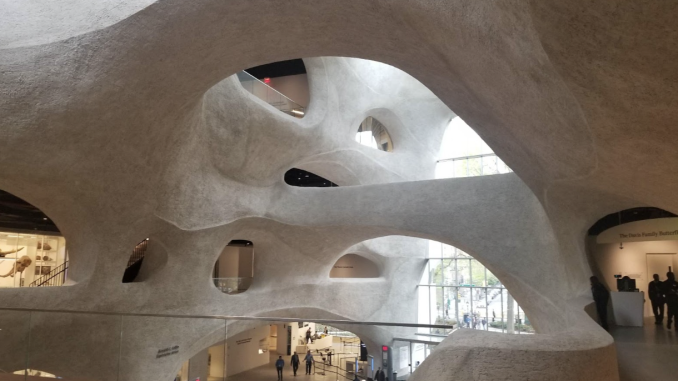 BY HENRY POPOVIC
After much anticipation, the Richard Gilder Center for Science, Education, and Innovation, a new part of the American Museum of Natural History announced in 2014, opened on May 4. 
Scott L. Bok, Chair of the Museum's Board of Trustees, shared what the new building has to offer. 
"We are thrilled to open this magnificent new resource and facility, especially as the city is more fully emerging from the pandemic period and people are eager for opportunities to learn, to be amazed, and to be inspired," he said. 
The center is 230,000 square feet in size, with the project itself costing $465 million. The building features seven floors in total, including six above ground and one below ground.
The building itself was designed by Studio Gang, and features architecture inspired by canyons of the Southwestern United States. 
Jeanne Gang, the founder of Studio Gang, shares about how the design is meant to connect with visitors. 
"The Gilder Center is designed to invite exploration and discovery that is not only emblematic of science, but also such a big part of being human. It aims to draw everyone in—all ages, backgrounds, and abilities—to share the excitement of learning about the natural world," she said. 
Gang also explained how attendees can experience the center at their own pace.
"Stepping inside the large day-lit atrium, you are offered glimpses of the different exhibits on multiple levels. You can let your curiosity lead you. And with the many new connections that the architecture creates between buildings, it also improves your ability to navigate the Museum's campus as a whole." 
The Gilder Center houses the Susan and Peter J. Solomon Family Insectarium, which highlights the importance of insects on the planet. Eighteen species of live insects, digital exhibits, models, and pinned specimens are on display, demonstrating the vitality of insects in different ecosystems, as well as their evolution and ways in which they benefit humanity. 
Additionally, the center features the Davis Family Butterfly Vivarium, a space containing 1,000 live butterflies of 80 different species and information about them. 
Hazel Davies, an expert on butterflies who has worked at the museum since 1995 and been its director of living exhibits since 2005, discusses what the vivarium has to offer. 
"The butterfly vivarium is a really immersive space for the visitors, you come in and you walk around a room full of butterflies, so it's a really great opportunity to have a personal experience interaction with an insect, and butterflies make great ambassador insects because they're so popular," she said. 
Davies went on to describe the necessity of maintaining the vivarium's conditions.
"The room is kind of like summer in New York, it's about 75-78 degrees, it's quite humid. All of the butterfly species we have are from farms in more tropical areas, and so we are approximating their natural habitat, and butterflies generally need to be warm to fly, that's why you don't see butterflies flying around in New York in the winter." 
Davies also talked about the importance of butterflies and what the exhibit can teach people about them. 
"This is a great opportunity to learn a lot of different information about butterflies and insects in general. One of the great things about the space is that we have a wonderful crew of staff and volunteers who are here to answer questions and help you get more out of your visit. We also have a lot of interesting graphics where you can read bits of information to find out more about butterflies," she said. 
According to Davies, the vivarium serves as a way to observe what butterflies do in their ordinary habitat.
"It's great that you can see butterflies here doing lots of different behaviors that you would naturally. You can also learn about threats that butterflies face. It's great for people of all ages, because kids can learn just about their senses, and how they have all the same senses that we have, but in different parts of their body." 
The Gilder Center is open to the public from 10 a.m. to 5:30 p.m., and is included with admission to the museum. The butterfly vivarium is an additional cost.