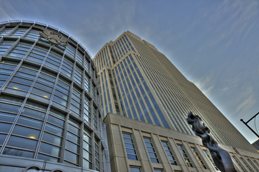 By KWAME PEREZ
A second man was arraigned Thursday in Brooklyn Supreme Court on charges of killing a young video game developer in November.
Damian Diaz ,29, faced manslaughter charges for the alleged beating of Jose Zambrano Rodríguez, 26 . The incident took place outside of a Brooklyn bar in the early morning of Nov. 17. Assistant DA Christopher Myco said Diaz, his cousin Joshua Hernandez and another suspect confronted Rodriguez and a woman he was with. Their motive was unclear.
Hernandez, 25, threw the first punch to the back of Rodriguez's head, the indictment alleges.
Rodriguez and the female then tried to walk away but the group chased them and Diaz allegedly punched  Rodriguez causing him to fall to the floor, where he cracked his skull on the pavement. The victim remained unconscious for four days before he died.
On the night of the incident a witness identified only the cousin, Hernandez as the assailant. and he was charged with misdemeanor assault since the attack was classified as a rare "one punch killing" making it difficult  for prosecutors to meet the requirements for felony assault since state law requires proof of intent to cause serious physical injury, according to legal experts.
Soon after, however, police discovered surveillance video that showed  both Hernandez and Diaz had thrown punches which led to Hernandez being charged with manslaughter and a warrant for Diaz  who was arrested on Friday.
The defendant, wearing a long orange pea coat and freshly braided hair, remained impassive as Judge Dineen Riviezzo read the charges. He is free on $250,00 bail
The case was adjourned to March 27 for routine arguments.