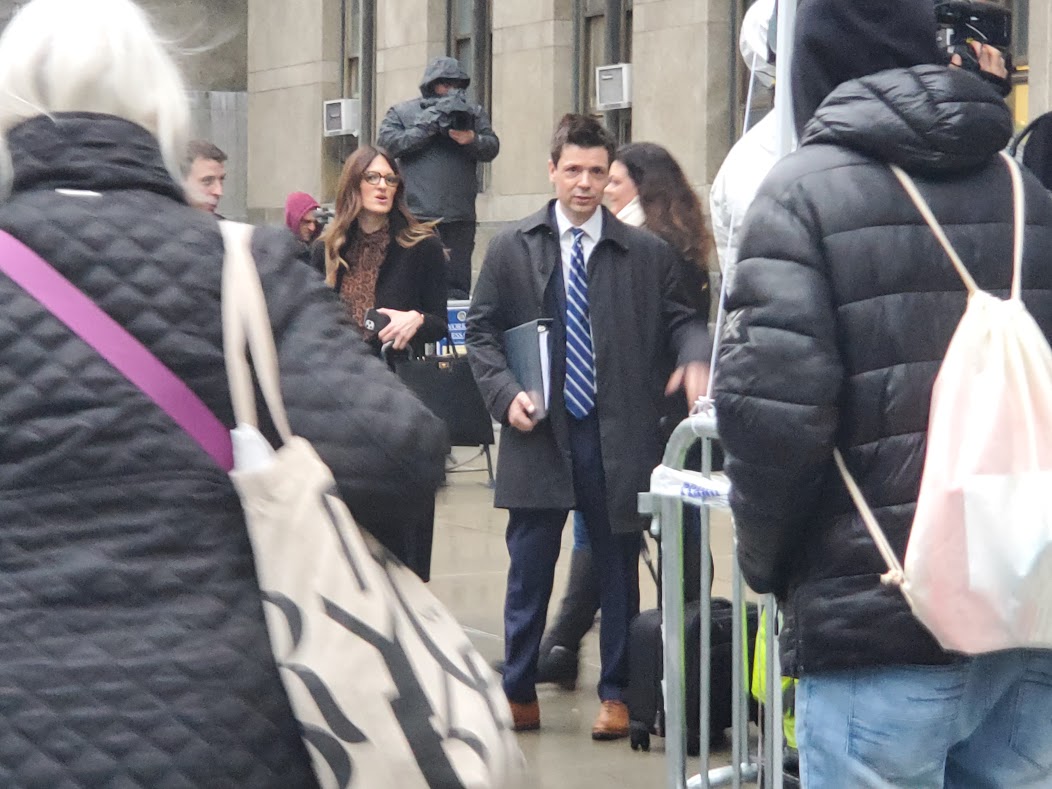 By SAMANTHA CASTRO & ALLISON RAPP
A producer and friend of Harvey Weinstein ruefully told jurors in the media mogul's Manhattan rape trial that he never expected his private text exchanges with Weinstein would be made public in a courtroom.
"Your appetite for a script, a movie or, yes, a girl, to put it mildly, is voracious," read one of the many text messages from Paul Feldsher, the first witness for the defense who also labeled the number of witnesses accusing his friend of sexual assault  "hideous" and "a dog pile".
Feldsher, also a friend of Annabella Sciorra, the actress who was the first of the six Weinstein accusers to testify in court, was called to the stand via a subpoena to indicate that he had never heard Sciorra complain about Weinstein's behavior, only that she had done "something crazy" with him.
The defense mounted their case for Harvey Weinstein Thursday afternoon after prosecutors rested their case the same morning. Though Feldsher seemed relatively confident in his knowledge of Sciorra's relationship with Weinstein, the text messages put forth by District Attorney Joan Illuzzi-Orbon suggested otherwise.
Despite stating that he never seen Weinstein mistreat a woman, one text message noted that "if a lot of these girls had been my [Feldsher's] daughter, I would have wanted to beat the hell out of you." He also stated that despite not talking to Sciorra for seven years, he "still considered her as a friend." However, Illuzi read another text from Feldsher talking about the case saying, "I think  she's [Sciorra] full of shit." In addition, although he testified that Sciorra never mentioned being uncomfortable with Weinstein, a text Feldsher sent referring to Weinstein and Sciorra stated that the two had "a awkward whatever-the-fuck."
"I was talking to him [Weinstein] because no one else was…I felt badly that he had been abandoned," Feldsher said as he attempted to explain all the text messages to Weinstein. "I know the extremes of his personality, but I did not believe he was capable of the things he is charged of."
The last of the six accusers, Lauren Young, returned to the stand in the morning after testifying Wednesday that Weinstein had sexually assaulted her in the Montage Beverly Hills hotel in 2013. Defense lawyer, Damon Cheronis, finished cross-examination by citing inconsistencies between Young's testimony and original interviews with prosecutors. Young didn't remember which hotel the assault took place in until she visited hotels with investigators. In addition, she recanted details about whether or not she was physically pushed into a locked bathroom with Weinstein. Cheronis also noted her use of the work "blackout", believing it to mean that she had no memory of the event.
"I meant block out, really," said Young, "because it was such a traumatic experience."
Young's friend, Ryan Beatty, was called to the stand to answer questions about Young's demeanor before and after her meeting with Weinstein.
"She was hysterically crying, words couldn't come out…" said Beatty. "It's probably the worst I've ever seen her."
Photo of lawyers exiting Manhattan courthouse by Samantha Castro