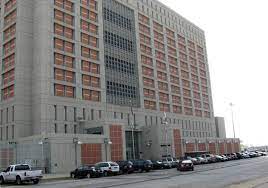 BY PAULINA VAIRO
A former IRS employee charged with identity theft and wire fraud was denied bail in Brooklyn Federal Court on Thursday, quashing his plans to take a road trip with his family.
Instead the defendant, Bryan Cho, deemed a flight risk by Judge Peggy Kuo, would continue to cool his heels in the Metropolitan Detention Center of Brooklyn. Breakfast is included.
Cho was arrested in late January for lying during his IRS background check and using a fake identity to purchase an apartment in New York City, the indictment said.
"Why in the world would someone who is thinking of fleeing, would contact his lawyer to pick up the phone and call the U.S Government and tell them they are planning a trip? " asked his defense attorney, Marshall Miller.
The lawyer also argued that Cho has extremely high blood sugar that has worsen since being admitted to the jail. "It causes great concern that he [Cho] seems to be worsening in terms of his medical condition, particularly when that very medical condition has been identified by the CDC as being the type of medical condition that can dramatically exacerbate the impact of COVID where he to contract COVID".
The pleas fell on deaf ears. The U.S attorneys argued that Cho has foreign connections and he and his family have South Korean passports, he owns a $2 million home in South Korea.
Judge Kuo ruled that Cho was indeed a flight risk and his medical condition did not pose deadly concerns.
"The fact that he [Cho] has resources outside country shows he has the ability, should he make that decision, to leave it all behind to go elsewhere and live and be supported financially by family members and resources outside the country" said Kuo "and I don't think his health situation is so dire that it necessitates his being release temporary or permanently."
If convicted Cho faces up 20 years in prison.