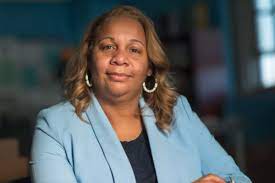 By ZHAYRON NELSON
The New York City school system teaches approximately one million students. Its Black students have been subject to the same outdated lessons about slavery for decades, critics have said.
There is now a plan put in place by Black education groups and elected officials, to execute a shift in curriculum to address those criticisms. The new curriculum is called The Education Equity Action Plan Initiative.
Oudette Williams is delighted. Her daughter Zhane is a second grader at Brower Park Elementary School in Crown Heights. Mother and daughter feel the new curriculum is a sign of more good things to come.
"I think it's important for not only my daughter as an African American girl to know her history, but I also think it just gives a whole different perspective for our future generations, where they know a lot about the culture in depth," the mother said, speaking to Brooklyn News Service on Thursday.
Williams herself is a teacher at a charter school in Hempstead, Long Island.
New York City Schools Chancellor Meisha Ross-Porter rolled out the plan on Wednesday.
Ross-Porter, a former teacher and executive superintendent, highlighted the need to better inform young New Yorkers about the role race has played in New York and wider American society. Ross-Porter is the first Black female schools chancellor of New York City.