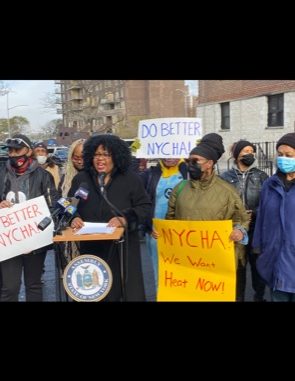 By ZHAYRON NELSON
There was shout for help this past Thursday, at the Coney Island Houses, as residents teamed up with Assemblymember Mathydle Frontus, urging the New York City Housing Authority (NYCHA) to restore the heat and hot water at the public housing complex.
The event was organized by the office of Frontus, who represents the 46th assembly district that covers Coney Island and surrounding neighborhoods.  A flyer sent out by Frontus' office was posted on social media sites, including Twitter and Facebook. The posts indicated the press conference would be a place where residents facing a lack of heat and hot water could voice their frustration.
Frontus stood up for residents during other challenging times.
The conference was held in front of the Community Room of the housing complex. About a dozen residents showed up. Frontus was the first to speak. She highlighted the urgency of the situation, saying NYCHA has to move to correct it because it's seriously and adversely impacting the residents.
Some of the residents have been without heat and water for several weeks, having to adapt by wearing coats to in bed and going to other families' houses to shower.  Frontus was joined at the podium by tenant leaders, including tenant association president Lauretta Brumfield, who echoed the pain being felt by her and other residents.
Max Guadalupe Jr., a resident who has lived within the housing project for 24 years, explained that this is something that repeatedly happens.
"It's just getting to the point where we expect it, we got hit hard during Sandy in Coney, and it's like ever since then the buildings gave up."
This problem exists even though NYCHA put together a "heat action plan "that was supposed to establish a protocol for its workers to respond to such emergencies.
Frontus, however, said lack of heat and hot water are among many painful challenges residents are dealing with. There is a need to make building repairs so that tenants will live there with the respect they deserve.