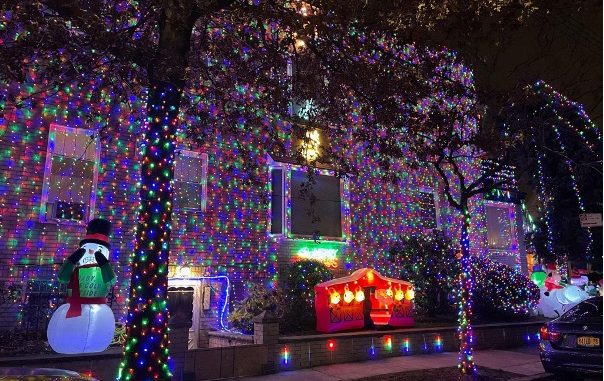 By AMANDA CURCIO
The beginning of the holiday season means big things for Dyker Heights, Brooklyn! Each and every year, hundreds of thousands of people come from all over the country and beyond to visit Dyker Heights for their incredible display of Christmas lights.
Typically, each year, going all the way back to the 1980's, Dyker Heights lights up the neighborhood the day after Thanksgiving.
You can find homes all throughout the neighborhood decked out in lights, but you'll find the most extravagantly decorated homes between 80th and 86th Sts., between 10th and 13th Aves., otherwise known as "the hills" of Dyker Heights.
One homeowner from Dyker heights, Lucille DiLorenzo, spoke on why this tradition means so much to her and the neighborhood.
"The holidays are the one time of the year where everyone in the neighborhood really comes together. We all love Christmas here, we all decorate, usually together, the day after Thanksgiving, and there is such a sense of warmth and community. I've been living here for 20 years, and I always look forward to being a part of this."
Many residents of Dyker Heights agree that the lights are a beautiful way to ring in the Holiday season. It gives them something to look forward to each year.
Another Dyker Heights resident, Johnpaul Paramo, said, "My brother and I every year decorate the front of our home, ever since we were kids. The payoff of seeing everyone looking at the decorations we worked so hard to put up has to be the best part. I love to see people's reactions, taking photos, and just enjoying the season."
Apart from the homes, you can find ice cream trucks, hot cocoa stands, holiday merchandise for sale, and even visits from Santa Clause himself, which really gives off the feeling of the holidays!
If you're looking to make your holiday season "Merry and Bright" this year, don't pass up going to see the Dyker Heights Christmas Lights! The lights are a short walk from the 79th Street stop on the D and N trains, and are accessible as well via the B16 and B4 bus routes.