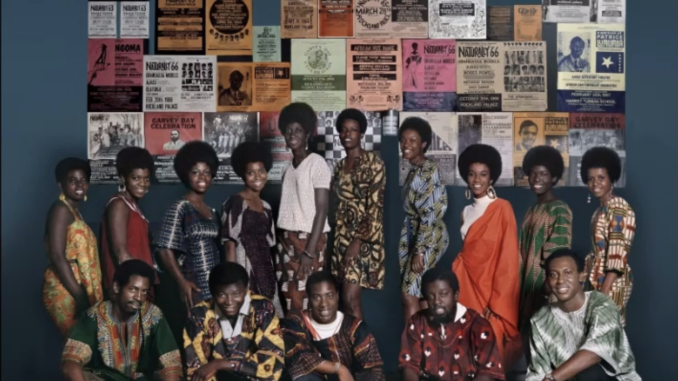 By ENRICO DENARD
As part of the Brooklyn Resists series, wherein Black Brooklynites tell stories about combatting systemic racial injustice, some of the original models and designers of the Naturally '62 Fashion show shared their experiences in introducing Black natural hair into Western society on February 3, 2022, via Zoom.
Bob Gumbs, Barbara Solomon, and Queen Black Rose, who are all original members of Naturally '62, kicked off Black History Month for Brooklyn Public Library's Center for Brooklyn History by detailing their experiences as pioneers for wearing Black natural hair as a fashion choice. Moderated by questions from Souleo, who is a newer creative, the panel revealed this was a movement that received extreme scrutiny from the African American community in its initial stages.
Many understand the value of being culturally aware in today's social climate; however, not as many remember the difficulty of introducing this message into mass media 60 years ago.
The event began as the audience met their hosts, dressed in traditional Ghanian attire topped off with crotchet crowns and traditional African jewelry.
Mr. Gumbs, producer and graphic designer, recounted the origins of the show. He had experience in hosting jazz events with the African Jazz Art Society & Studios, and decided to elevate the focus on African heritage by hosting the original Natural '62 fashion show. This was a tall order at the time, as the media was fixed on a European perspective.
Before 1959 there were very few independent African states. Then a movement for decolonization began. This movement galvanized a community longing to express appreciation for its heritage in Brooklyn. Also inspired by the cultural doctrines of Black pride advocate Marcus Garvey, the hosts of this event put forth an idea to broadcast the unique qualities of Black culture. Thus, the Naturally '62 fashion show was born.
Until then, many if not most African American women straightened their hair with a perm and hot combs, as straight hair was a symbol of normalcy. Mr. Gumbs set to deliberately spotlight African heritage, allowing only Black natural hair to be represented in the show. "Finding women who were brave enough to represent the look was the hardest challenge," he admitted.
The original models were called Grandassa, a reference to Dominican-born Black nationalist Carlos Cook's term "Grandassaland" for Africa. It affirmed that participating was a medium for stepping outside a conformity box that society had placed on them, and many of the models received push-back from friends and family. It was labeled defiant by the African American community, and although violence would not ensue, the Grandassa models suffered from dire responses from their friends and family because of their new fashion choice.
Barbara Solomon, a children's book author, former dance teacher at Manhattan Community College and an original member of the Grandassa models, told viewers on Thursday, "Africa is always prescribed as primitive in the media." She said many Black people in the '60s believed that to embrace their natural hair would be a disservice to their social realities. "My mom one day took a lot of sleeping pills because I wouldn't straighten my hair anymore," she recalled.
Queen Black Rose, a fellow Grandassa model, echoed Solomon. "The Black community did not accept that [natural] look at first," she said. The second show, in January of 1968,  gave the community time to come around to the symbolism innate in the models embracing the unique qualities of Black heritage.
The first part of the original show highlighted Western fashion, which accentuated the adopted customs of clothes and hairstyles. The second part of the show introduced many traditional African attires, cultures, and history. The hosts of BPL's event argued that African culture, such as displayed in the Naturally '62 Fashion Show, had been neglected in mass media. They claimed this production helped pave the way for proud African heritage to be displayed in the media.
The straightened hair style was a perpetual struggle for Black women because precipitation and humidity ruined it. Wearing hair naturally helped women avoid these stressors, Naturally '62 was a precursor to the industry for Black hair products, in the myriad of combs, brushes, shampoo, and conditioners made to maintain the Black hair texture.
Whether the estimated $2.5 billion Black hair industry was propelled by the Naturally '62 show, Bob Gumbs claims that its influence is demonstrated by the big afros seen throughout the '70s as well as the growing consensus for Black pride in today's media climate. Ms. Solomon says that her mother, who survived her attempt to take her own life, also became a proud advocate for natural hair later in life.
The Naturally '62 Fashion show will continue its appreciation for Black qualities and the commemoration of the groundbreaking fashion statement by hosting a show annually. Due to COVID-19 complications, the honoring of the Natural '62 fashion show was pushed into Brooklyn Public Library's digital conference space; however, audiences can find some of the show's original cast across platforms promoting Black activism, as they share the history and their involvement in fostering a positive view of Black natural hair to communities and media.