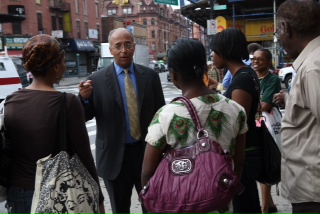 By JAMILLE SUTTON
Ten years ago, the Campaign for Fiscal Equity won a ruling from the state's highest court that a state funding formula violated the rights of New York City schoolchildren.
Now, former Board of Education President and current mayoral candidate Bill Thompson is pushing New York State to adhere to guidelines set by in the Campaign for Fiscal Equity case.
To do that, he wants Gov. Andrew Cuomo to turn over $260 million the state is withholding from city schools as a result of the city's failure to comply with a 2010 state law that required the implementation of a teacher evaluation system by January 2013. roshe run flywire With Mayor Michael Bloomberg and the teachers' union unable to agree on a system, the city failed to comply.
"I urge the State Legislature to immediately restore the $260 million in aid that we lost as a result of Mayor Bloomberg's inability to strike a deal on teacher evaluations," Thompson said in a statement.
Thompson said that students should not be punished because of the mayor's performance. He also asked that the state comply with the CFE formula, in order for the city's students to receive a quality education.
"The Campaign for Fiscal Equity was a watershed moment for New York City students," Thompson said.  "That is why I was at the front of the fight on CFE when I was president at the Board of Education.  Our students deserve nothing less."
In breaking with Bloomberg and Cuomo, Thompson is in effect appealing to the teachers' union.  Thompson said he believes that the government should work with and support teachers.
Thompson has also spoken against the practice of  "name calling" against teachers and "vilifying" them. Thompson said he avoided this kind of behavior while serving as president of the Board of Education from 1996 through 2001.
If elected, Thompson plans to prioritize the improvement of failing schools, as opposed to closing them, said Ibrahim Khan, a spokesman for Thompson. He said Thompson will not give up on New York schools, and he will never give up on them.
"For more than a decade, Mayor Bloomberg has prioritized closing schools over improving them," said Thompson. "The policy continues to fail New York's students and it must end now. Schools must be improved so children in every single community have an opportunity to get a great education."
As mayor, Khan said, Thompson would also get rid of the city's standardized testing obsession.
"Study after study is showing that New York City students are less prepared for college and the job market," Khan said. "Nearly 80 percent."
Khan said that New York State constituents understand that "teaching to the test" roshe run flywire femmes is not working, based on the fact that students are not prepared when students are not properly prepared, they incur problems later on. He said that they are often placed in remedial classes in college, which slows them down and is costly.
Thompson said that students of all racial and ethnic groups in the city should receive the same quality of education. A spokesman for Thompson's campaign said that since these minority groups are not
Research shows only  36 percent of Latino students and 37 percent of blacks graduate with a Regents diploma in four years.
If elected, Thompson said, he hopes to close the achievement gap between black and Latino students and their counterparts.