BY LORETTA CHIN
When Hurricane Sandy tore through sections of the northeast on the night of October 29th, few were prepared for the triple whammy of the unusual weather systems that caused Sandy to veer towards shore, the high tide, and the full moon all combining to create huge surges of waters that flooded and devastated neighborhoods all along the shoreline from New Jersey to New York and Staten Island.
Neighborhoods like Coney Island, Brighton Beach, Breezy Point, the Rockaways and other hard hit areas were evacuated and the first to receive government help because they were designated as zone A, which was a mandatory evacuation zone in the event of an approaching Level 1 hurricane like Sandy.
At the same time, Gerritsen Beach, which is a peninsula surrounded by water on three sides and divided by a canal, in the Southeast section of Brooklyn, was not ordered to evacuate because they were designated as Zone B.  This meant that in the event of mass flooding like that experienced by residents in Zone A, Gerritsen Beach was basically on their own.  In spite of this, the small community of about 5,200 residents banded together and provided a model of how people have used their community ties to work together to help themselves survive  Sandy's devastating blow.
"They lost everything they had," said Barbarann Harper, a long-time resident of Gerritsen Beach.  "They lost their cars and nobody ever thought that this would come up as far as it did."  Harper pointed to her boots, legs, and chest to show where the water rose on her body all within minutes.  She told a harrowing tale of rescue as she and her husband spent three hours in the chest high water scrambling to evacuate elderly residents from their flooded homes in neighborhood owned kayaks and small boats.
A little over a week after Hurricane Sandy hit, Harper and other long-standing volunteers from the Gerritsen Beach Volunteer Fire Department, affectionately known as "Vollies," stood in front of  Blue Star Mother's Hall.  The hall is a relief center that was set up across the street and down the block from the Gerritsen Beach Volunteer Fire Department at 52 Seba Avenue.  Both are located on a narrow two-way street with the din of the bustle of constantly moving cars and trucks coming in and out to drop off donations and volunteers.  It's a noisy street with the sounds of people's voices, gas-driven generators, running truck engines, and the beep, beep, beep sound of trucks moving in reverse, many of which were from food trucks that came in from all over the neighborhood.  The smell of diesel for the generators and exhaust fumes from the trucks permeated the air.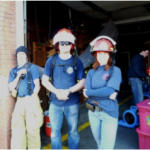 "We don't have food, we don't have power, we didn't have gas, we didn't  have no help," Harper complained as she compared New Dorp, Staten Island, which received a lot of attention and assistance immediately after the disaster,  with Gerritsen Beach, which was ignored and left to survive on their own.  She said that the water came up 15 feet in her home with the flood surge, which was so strong that it brought in a house and a boat from as far as the Rockaways.
A temporary shelter was set up at nearby Resurrection Church with about 15 cots and some water supplied by New York City's Office of Emergency Management, but relief efforts eventually had to be moved to the hall on Seba Avenue to meet the high demand of the needs of the community.  Another smaller relief center was set up at the Cort Club, located on the corner of Gerritsen Avenue and Devon Avenue for residents in that area.
Several six-foot tables of food, coffee, and supplies were lined up on both sides of the main relief center doors in front of the large blue mural of the Gerritsen Beach Fire Department logo, and a large sign that said "Relief Center."  An American flag waved proudly above the scene in this patriotic, predominantly Irish and Italian close-knit community where everyone knows everyone else and families have been in the neighborhood for generations.
Inside, the main room was filled halfway to the ceiling with stacks of assorted clothing yet to be sorted and organized.  Along the walls and in little islands were other types of medical, cleaning, and household supplies, as well as areas for dry goods and canned food.
In addition to the Vollies and amid the hustle and bustle, several neighborhood residents and their children were helping to man the tables and give direction to the constant stream of visitors and volunteers coming in.  Firefighters from other companies and police officers from the nearby 61st precinct were also stopping by to check on community needs and to lend a helping hand.
Acting Chief of the Vollies, Doreen Garson, was the main organizer of relief efforts after Sandy hit. Garson has been in the community for over 30 years.  She has her own realty company under her professional name of Doreen Greenwood and is the president of the Brooklyn Board of Realtors.   According to Garson, Gerritsen Beach is comprised of approximately 1,700 – 1,800 homes and, at the most, up to 6,000 residents.  The first settlers were Norwegians, then the Germans, Irish, and Italians, but more recently some Jewish and Chinese have also increased the diversity of Gerritsen Beach.  She keeps a list of all the people, volunteer groups, restaurants, food trucks and others, who number in the hundreds.   At the peak of need, three to four thousand meals a day were being served for those who could make it to the relief center.  Packaged meals were delivered by the Vollies to those who could not leave their homes.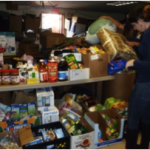 Janet Behrens, 61, who just had a hip replacement in April and is a World Trade Center survivor from 2001,was able to get a car ride from a friend and came for the first time after a whole week of being trapped in her house on Kay Court.  She said that the relief center was the only place where residents could get a hot meal.   "I was on the 104th  floor of the second tower when the plane hit, and now this," Behrens said.  "Right now, I just think my life sucks, I gotta tell you," she said in a trembling voice.   She said the water missed the top floor of her house by two inches and her seven foot basement was completely flooded.  Behrens voice trailed off as she said, "I had to rip everything out–my hot water heater, my burner…"   And yet, Behrens considered herself fortunate because she still had a living room to sit in and a bed to sleep in on the top floor of her house.  Her sister, who lives just a few blocks away, lost everything and has nowhere to live.
She said that the community was desperately in need of people who could supply help to repair the homes because the people in the neighborhood were lower income people who lived from paycheck to paycheck.  "This neighborhood is devastated and people cannot afford to rebuild," she said.    "We don't have $50,000 to $70,000 to move back into our houses and these people have no place to go," she continued.  Without power and gas, she described how hard it was to even know what was going on or what became of her neighbors.  At night, it would be pitch dark in the streets and people would be fearful to go out and possibly hurt themselves, something they could not afford to do under the circumstances.  The phone service was spotty and she had to worry about running her battery down because it was hard to find or even get to a place to charge her phone.
She described how it took weeks to get attention from FEMA and the frustration of having to go through her home owner's and flood insurance first, all with very limited abilities to communicate without power or transportation.   Her insurance companies wanted her to save everything, but told Behrens that they couldn't get to her for another two weeks.  When Behrens told them that she was afraid of having a mold situation since everything that was affected by the flooding would start to rot, she was then told to take pictures of everything over $100 and to get rid of the rest.
Behrens and several residents spoke of the role that Senator Martin S. Golden played in helping the community on a daily basis.  Harper said that Golden was there from day one, wading in chest deep water to help residents escape the flooding water.  Golden, along with Reverend Dennis J. Farrell of the Resurrection Church, also helped expedite arrangements with the city to set up the main relief center.  Later, Golden's office helped residents get needed repairs through a New York City Rapid Repair Program.
Behrens was voted woman of the year by Senator Golden a few years back for the work she does through the non-profit, Gerritsen Beach Cares, which helps decorate Gerritsen Avenue with flags in April just prior to the Little League Parade and helps string Christmas lights right after Thanksgiving.  Her organization works with other groups in community activities and has taken a central role in the hurricane relief efforts by working with the Cort Club to set up a hurricane relief fund account.
Robert Bauerlein came in from Arizona for a week to help out because he came from the neighborhood and many of his friends needed his help.  He said that there was only minimal coverage by the media and it took a few days for even a little help to arrive.  "The Red Cross was here for, you know, two days tops, handing out sandwiches and giving out water," said Bauerlein.  Eventually, the national guard came with water, blankets, and MREs after reports about Gerritsen Beach made national news on CNN.
When asked what he thought about what was going to happen to the people there, Bauerlein said that he thought that a lot of people were going to be displaced and that many of the houses would be condemned.  "We still have a lot of people–even though there's no power, they're still staying in their homes," Bauerlein said.  "Even though the bottom floors of their homes were flooded, we still have people living in the second floor of their homes huddled under seven layers of blankets to stay warm," he continued.   He explained the urgency to get licensed electricians, boiler repair men and tree cutters in first to restore power and get heat into people's homes.  Since so many electrical panels were damaged by the sea water, electricians would either need to inspect and ok the panel boxes or replace them before the electricity could be turned back on; any kind of short or spark due to a malfunctioning panel box could otherwise lead to a deadly fire.
Several volunteer fire departments from other states also sent support or came in person to help out.  Three fire companies from central Pennsylvania came down for the weekend to supply logistical support and relief by covering fires so that the Vollies could take a break with their families.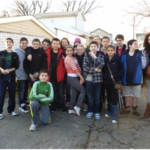 According to Behrens, some other neighborhood groups that helped out were the Knights of Columbus, the Ancient Order of Hibernians, and St. James Church.  Borough President Marty Markowitz's office donated $25,000 to help residents with their electrical panels.
Lauren Brenner, who has been with the Vollies for eight years said that the majority of the homes now have power back, but there are still many that don't  have their boilers yet.  They cost around $6,000 and supplies and boiler technicians are in high demand.  She has helped distribute donated electric heaters as a temporary solution for some.  "It's a lot better, but it's not going to be anywhere near normal for at least another couple of weeks," Brenner said.