By ALEXANDRA STEVENS
Robert Seidel, owner of a Brooklyn bed and breakfast, pulled out a card he keeps in the little side table by his front door. On it is a glossy wedding photo of a woman in a turquoise sari, embroidered throughout with intricate flecks of golden thread, holding the hand of a tall man in glasses. They wear matching smiles. Beneath them, in script, the card reads "Anjali & Raffaele, 2011."
Anjali Rao is from Cleveland, Ohio, and went to visit family in India during the summer of 2009. During a four-day solo trip to Goa, Rao happened to book a room in the same bed and breakfast as a man named Raffaele Spazzoli, who was visiting from Italy. Spazzoli was in India for business, extending his stay afterwards for a bit of sightseeing, when he first saw a beautiful woman in the lobby. Rao didn't notice him at first. Spazzoli spotted her again on a beach the next day, then on another beach shortly after, and then finally inside the same restaurant he had chosen for lunch. The number of coincidental sightings seemed to be telling him something– they ended up eating together, then meeting again for dinner that night.
After spending the next day exploring Panaji together, Spazzoli and Rao went their separate ways. About six months later, after keeping in touch via email and Google Chat, they decided to meet again in person to see if their friendship could become something more. In December 2009, the two planned a stay in Brooklyn, neutral ground somewhere between Ohio and Italy to test the possibility of romance. They booked their stay at the Loralei Bed and Breakfast, an early 1900s Victorian-style home in Ditmas Park. When Rao arrived at the Loralei, she regaled the owner, Robert Seidel, with the story of how she and Raffaele had met that summer.
The morning following their first night in Brooklyn, Seidel came down from his third floor bedroom to find Rao and Spazzoli already at the kitchen table, holding hands. Less than two years later, the couple was married. They just welcomed their second child earlier this year, and Seidel continues to receive letters and cards from the happy duo and their growing family.
Seidel couldn't stop smiling as he told their story, and how his neighborhood of Ditmas Park, an area entirely unknown to most people living outside of New York City, had made itself a landmark in the romance of a couple from thousands of miles away. While he and other homeowners in the area have been clued in to the charm of Flatbush for years, it seems like the rest of the city is just starting to catch up.
The hotel business is expanding rapidly in Brooklyn, and not only in the brownstone belt in neighborhoods close to Manhattan. Popular room-share platform Airbnb shows over 77 rental options available in the Flatbush area now, no matter that it is a half-dozen and more subway stops from Manhattan. And over 20 new hotels are scheduled to open in Brooklyn within the next two years. Construction has begun on a 69-room boutique hotel on Flatbush Avenue, set to open by 2016, complete with a fitness center and a restaurant. Directly across the street in the heart of Flatbush, the newly restored Kings Theatre (a $95 million project) glows brightly, sandwiched between a worn-looking Astoria Bank and an array of wigs in the window of Feel Beauty Supply.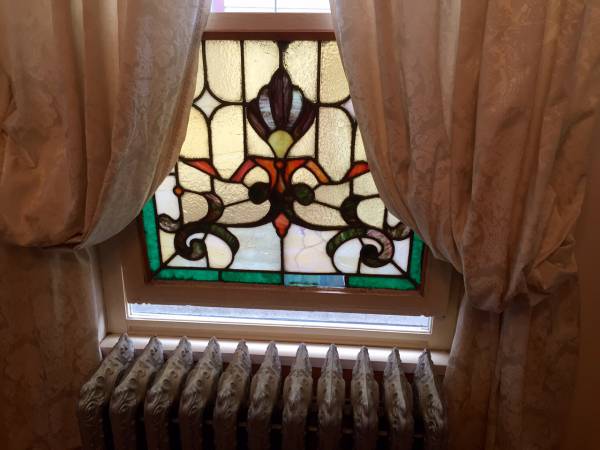 Seidel and his partner, Lance, moved to Ditmas Park in 1994. This summer, their three-story 1904 home will celebrate its tenth anniversary as the Loralei Bed and Breakfast, one of several historic houses that call themselves "The Bed and Breakfasts of Victorian Brooklyn." Most of these bed and breakfasts are spread out within the area south of Prospect Park generally referred to as Flatbush, which includes neighborhoods such as Ditmas Park, Kensington, and Prospect-Lefferts Gardens.
There, historic homes sit on tree-lined streets, their arching facades and ornamental brackets serving as reminders of bygone eras in a borough now best known for its trendy northern neighborhoods and its celebrity-studded basketball games. The more suburban areas tucked here and there in southern Brooklyn provide a sense of tranquility and community (translated for some as less traffic, friendly neighbors, and parking spots), a seemingly impossible feat in much of the rest of the borough. And as Rao and Raffaele found out in 2009, the hospitality options in Flatbush offer a personal experience that just can't be imitated by a stay in a hotel chain.
"That weekend in December was so magical," Rao said of the days in Brooklyn that solidified the connection with her husband-to-be. "I remember that it actually snowed in New York! I credit the Loralei with setting the stage for our relationship to blossom," she said, happily reminiscing on their romantic experience. "It's nice to be reminded of our beginnings," she said, "since right now our lives are overrun by diapers, napping, and feeding schedules."
Sue Fishkin and her partner, Michael Hurwitz, own the Rugby Gardens Bed and Breakfast. The cheery, crayon-bright house on Rugby and Cortelyou roads is part of the "Bed and Breakfasts of Victorian Brooklyn" network.
"I used to say that this neighborhood was a well-kept secret," Fishkin mused. "But not so much anymore."
In the past five years, Cortelyou Road has become a destination in itself, with the variety of fine dining, bars, and boutiques increasing with each passing year. Eateries like The Farm on Adderley and Oxcart Tavern offer creative culinary options that rival Manhattan's in every way but high price. These Ditmas Park eateries boast plates like lamb lasagna, toast topped with goat butter and maple sugar, and craft cocktails with ingredients like lemongrass-infused genever, a type of Dutch gin. Nothing on the Farm on Adderley's brunch menu clocks in at above $13, in comparison to the proliferating pre-fixe brunches throughout Manhattan that start somewhere above $25 per person.
Seidel recalled the amazement of an Australian couple that recently returned for a second stay at the Loralei. They marveled at all of the changes the neighborhood had seen since their first visit to the area seven years ago. Part of that shift seems linked to an overall demographic change in the area as younger couples and families move in, according to 2010 U.S. Census data.
And along with migrating millennials comes a market for bars, brunches, and visitors. While the bed and breakfasts of Brooklyn often house intrepid tourists, they also frequently function as extended spare bedrooms for people living in the area. Younger people are at the stage in their lives where milestones like weddings and babies bring extended family members and friends for visits, but a lack of space often means that a visit from grandma requires additional accommodations.
Seidel estimates that about a third of his guests are Europeans, interspersed with the occasional Canadians, Asians, and Australians. Flipping through guestbooks reveals the thank you's and signatures of guests from Italy, Belgium, France, and Taiwan. Many of his international visitors bring gifts like souvenirs and chocolates. Seidel takes out a plastic sleeve filled with ornate origami creations, hand-made presents left behind by Japanese guests he hosted several years ago.
"Intrepid visitors love to explore less traditional destinations," said Dena Libner, the director of Communications and External Affairs for NYC & Co., the city's official tourism organization. "They want to experience something novel and unique, and will stay in and visit neighborhoods outside New York City's most popular tourist destinations."
According to NYC & Co., visits to Brooklyn saw a 14 percent increase between 2012 and 2013. In that same period of time, spending by visitors to the borough increased by 8 percent, and jobs supported by tourism increased by almost 6 percent. In contrast, the number of people visiting the city as a whole experienced only a 3 percent increase in 2013.
"Spreading visitor spending even farther is great for New York City, since it helps support local businesses and job creation," Libner added. NYC & Co. credits its global campaigns, such as "Neighborhood x Neighborhood" and "NYCGO Insider's Guide," for introducing lesser-known neighborhoods to potential visitors.
A look at the construction plans for Brooklyn in the coming year reveals that corporate America has caught on to the appeal of a stay far away from Times Square or Central Park. According to Survey Technology & Research Center, a hospitality research firm also known as STR, at least 11 hotels are scheduled to open in Brooklyn this year, with another 10 and counting anticipated for 2016. The number of hotel rooms in Manhattan experienced a 13 percent increase in 2014, while Brooklyn doubled that number with a 26 percent spike. And the number of rooms isn't the only thing increasing: the average nightly rate for a Brooklyn hotel room went from $144 to $170 from 2010 to 2014. But the research center's data shows that despite the steady climb, Brooklyn still offers a better deal than most Manhattan locales. With average room rates in Manhattan averaging at $292 in 2014, the choice to stay in Brooklyn can still save visitors over $100 per night.
Most of the Victorian bed and breakfasts in Flatbush offer nightly rates slightly above $100, providing a New York experience at an affordable price. While a trip to Manhattan's Museum Mile might be an hour away on the subway, transportation is easily accessible, and a plethora of less-touristy options are within walking distance. Prospect Park offers ice-skating, a zoo, and a summer concert series, and the 560,000-square-foot Brooklyn Museum houses one of the largest collections of artwork in the city. The Brooklyn Botanic Garden features 52 acres of flora and fauna, and the recently restored historic Kings Theatre hopes to revitalize the surrounding area of Flatbush Avenue. The Green-Wood Cemetery, founded in 1838 and granted the status of National Historic Landmark in 2006, spans over 478 acres and is the final resting place of figures like Horace Greeley, Jean-Michel Basquiat, and Leonard Bernstein.
Despite the frequent appearance of cranes and bulldozers nearby, both Seidel and Fishkin said that most bed and breakfast owners in the area are unfazed by all the construction. Seidel said that traditional bed and breakfasts provide a personal experience that a hotel, or even a listing on popular room sharing sites like Airbnb, inherently lacks. He feels as though there is little overlap in their customer base, and those who seek out rooms in the hotels being built in the coming years would most likely not have booked a stay in a bed and breakfast anyway.
James, an Airbnb user in Flatbush, has been offering a private room in his apartment for only $40 per night since December of 2014. Because of the recent increase in lawsuits and evictions of Airbnb users in New York City, hosts on the website refused to divulge their full names when commenting on their experiences. James said that his guests are either tourists or in New York on business, with an estimated two thirds of his visitors being foreign, mostly from Europe and Asia. James thinks that the success of his listing comes down to cost, attracting people who want to stay in New York City on the cheap. According to the Elliman Report, the average rent in Brooklyn has increased by 4.5 percent since 2013. As the cost of living increases, more people in the borough are turning to alternative ways to pay rent, such as converting their homes in bed and breakfasts or opening up their spare bedrooms to guests via room share platforms.
"When you live in an old house, you have to marry the house," Fishkin of Rugby Gardens said with a laugh about her 1920s home. She explained how a large portion of the money made through guests goes towards the upkeep of an old house, helping alleviate the cost of repairs and maintenance of loose floorboards and clanking radiators. "You're not going to get rich, but the benefits are so wonderful," she said of her choice to open up their doors to guests. "It's a very familial kind of business; it creates the sensation of a personal experience."
Al, another Flatbush Airbnb host, has been using the website since 2012. He offers the master bedroom of a shared apartment for $55 per night, and said he has been consistently booked since he first up the listing. Al said he's heard "quite a bit of hubbub" about the boutique hotel being built on Flatbush Avenue, but isn't concerned with it encroaching on his flow of guests because, like Seidel, he thinks that "people that stay [in] Airbnbs and people that stay in hotels are two different animals, more of less." Based on his experiences, Al thinks that the people who use room sharing platforms tend to be looking for a more interactive experience. He offered several bizarre anecdotes about past guests, including one about an elderly couple from the rural midwest that eventually divulged their love for sadomasochism.
Joe Brancatelli, a travel writer, publication consultant, and the founder of business traveler website Joe Sent Me, recalls a story that he published in the summer of 1998. A native of Sheepshead Bay, Brancatelli was visiting his home borough to write about the much-heralded opening of a Marriott in Brooklyn.
"What's the big deal about another Marriott?" he wrote. "Every place has a Marriott. Moscow has a Marriott. Why should it be news, why should it matter, that Brooklyn had a Marriott?" It mattered because, despite a population that would make Brooklyn the fourth-largest city in America, it was the first hotel to open in the borough, a signpost of serious changes in the coming years.
"Brooklyn was not hip in 1998, just like it wasn't hip when I was growing up there," Brancatelli said. "The tourism influx, I think, is totally bound up with Brooklyn's resurgence as a place to live and hang."
Brancatelli recalls the term "bridge and tunnel" (a Manhattan-centric reference to new Yorkers from outside Manhattan) appearing, then disappearing, from the city's lexicon. The phrase originates from the Triborough Bridge and Tunnel Authority, now known as MTA Bridges and Tunnels, in reference to people who came in to Manhattan via the outer boroughs. According to data from New York University Wagner School's Rudin Center for Transportation Policy and Management, the estimated number of commuters from Brooklyn to Manhattan was over 357,000 in 2009, beating out every other borough in the city. The rarely heard "bridge and tunnel" label now seems reserved solely for those coming in from New Jersey and Long Island.
Subway stations in central and southern Brooklyn have featured row after row of advertisements for the opening of Nike's first Brooklyn retail store, a 20,000-square foot space slated for 2236 Nostrand Ave. in Flatbush. The historic Kings Theater re-opened with a February performance by Diana Ross, filling the following months with shows by stars like Sufjan Stevens, Bjork, and Crosby, Stills & Nash. On May 6, The New York Times released its second story in a one-year span profiling the neighborhoods south of the park, officially declaring them "on the map."
"The concept that everywhere in the world wants to be the next Brooklyn is funny, because I grew up in Brooklyn when those of us who lived in Brooklyn didn't want to be there," said Brancatelli. People want to be in Brooklyn now, and the appeal of a stay south of Prospect Park is no longer a secret.
Photo: Top, Robert Seidel at the Loralei Bed & Breakfast in Ditmas Park. (Alexandra Stevens)