By AMANDA ANDRIES
The first performance of "Breakfast at Epiphany's," a drag show at Lillie's restaurant in Times Square, brought cheers to the packed audience after a priest from neighboring St. Malachy's Church had demanded that the brunch time extravaganza be cancelled.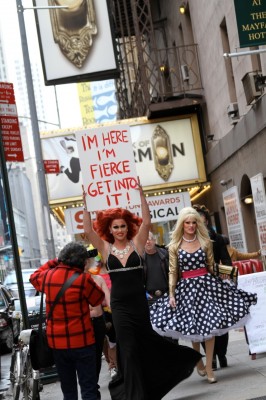 The "dragilicious brunch event," planned by Michael Fratz and begun on Sunday, Feb. 24, was at the heart of the tiff between the Times Square church, also known as "the Actor's Chapel," and the Victorian-styled restaurant. The dispute started when Lillie's management announced via a "Breakfast at Tiffany's"-modeled poster, placed in front of the restaurant, next door to the church, that drag performer Epiphany Get Paid would be having a weekly show on Sundays. It was at the same time as mass at neighboring St. Malachy's.
The Rev. Richard D. Baker, pastor at St. Malachy's, said he had at first assumed that the show was going to be something more inappropriate than it actually is.
"On the surface it appeared to be something that it wasn't," he said from his office at the church.
When the priest expressed his ire to the owners of Lillie's, they decided to cancel the show altogether,  but then rescinded that decision after Epiphany protested. The restaurant then decided  to move the event to its Union Square location.
But Epiphany was not going to be run out of Times Square.
"This is absolutely serious, shutting down an establishment illegally over a drag show will not be permitted anywhere in NYC," Epiphany said on the event's Facebook page.
The drag performer spread the word via Facebook and other media outlets to the gay community and whoever else would listen.
Council Speaker Christine Quinn's office got wind of the hullabaloo and decided to get involved. Her staff mediated a conference call involving Father Baker, Lillie's owners and management, Epiphany and the show's organizer. At the end of the call Lillie's decided that the show would go on as originally planned at their Times Square location.
Father Baker came out of the meeting with a different perspective as well. "We are really good friends now. They really are wonderful people," he said. "The Lord brings out good things out of tough times."
Lillie's owner Frank McCole spoke about the restaurant's stance on the matter, "We celebrate every creed, every sexual orientation, every nationality. We're all about having a good time," he said.
Earlier that day Epiphany, 31, and a handful of drag queens and supporters took part in a "March of Solidarity" from the TKTS booth in the middle of Times Square  to Lillie's at 249 W. 49 St. This was a tiny percentage of the 240 people who on the event's Facebook page had said that they would attend the march. But not to be deterred, the vocal crew marched on.
"I don't sexualize any of this. I see it as a practice or an art," he said.
At Lillie's for the start of the show, Epiphany, clad in a long, black, body-skimming gown with cutouts in the back, began the show by announcing, "I don't lip synch!" She then launched into a fun set of show tunes, including a rousing rendition of  "When You're Good to Momma" from "Chicago."
Representatives from Quinn's office were present, including Quinn's father. They sat in a corner booth and appeared to be enjoying the show.
Also in attendance was Kelly Abiodun, 47, of Middletown, who came to Times Square to with her 6 year-old daughter, Kara and friends, to see the musical "Cinderella." "I think it's awesome," Abiodun said. "Only in New York, whatever floats your boat."
From the street, the only visible evidence that anything different was happening inside Lillie's that day was a small police vehicle, which had been stationed outside both establishments since 11 a.m., that day. Opening the show was another famous drag queen, Ivy Winters, who appears in the current season of Rupaul's Drag Race, while DJ David Serrano spun the tracks.
Epiphany, whose real name is Calen Tomaszewski and who lives in Williamsburg, Brooklyn, has been performing for 10 years. Epiphany also performs at Industry, Therapy and XO, among other places.
When asked if he will attend one of Epiphany's shows in the future, Father Baker said, "I actually will be seeing the performer perform one of these days. But not on Sundays because I am a bit busy."
Photo by Amanda Andries.