By ALAIN GAILLARD
The soup kitchen starts serving food at 10:30 every morning. A few soup kitchen guests begin gathering outside the main entrance of St. John's Bread and Life in Bedford-Stuyvesant, Brooklyn, a half-hour before the doors open.
After the doors open, the seats around the tables in the cafeteria start filling with guests who wait for their hot food in an atmosphere of familiarity. Everyone is engaged in a conversation; everyone seems to know one another.
One impact of gentrification in Bedford-Stuyvesant is that rising rent has caused more residents to turn to St. John's Bread and Life for food, said Anthony Butler, the soup kitchen's executive director.
The number of participants asking for hot meals has increased by about 5.5 percent over the last year, Butler said, while the number of participants in the food pantry and the grocery section has increased by 11 percent. "Folks are spending more and more money on rent and making choices between rent and food, so they are using our service because they don't have enough money to make ends meet," he said. "The cost of living, particularly housing, really squeezes everything, especially with the gentrification going on in Bed-Stuy."
With a current population of 153,000, Bedford-Stuyvesant was named for Peter Stuyvesant, the last Dutch director of the colony of New Netherland before it was renamed New York. Before the gentrification process began in the early 2000s, the neighborhood was mostly inhabited by African-American and Caribbean immigrants, groups that moved in from Harlem in the early 1930s.
According to census data, the number of white residents increased from 2.4 percent in 2000 to 15 percent in 2010. Housing prices are also rising: for example, a tenant is paying $3,550 for three bedrooms in Bedford-Stuyvesant compared with $2,850 for three bedrooms in Flatbush.
Kenneth Gould, professor of sociology and earth and environmental sciences at the CUNY Graduate Center, explained that the first big gentrification push in Brooklyn was so-called bridge and tunnel gentrification. "This happened in places such as Williamsburg, which had good transportation access to points of employment or more affluent neighborhoods, but were not valued as much as those neighborhoods," said Gould, who is also director of the Urban Sustainability Program at Brooklyn College. "From Williamsburg, people could access Manhattan faster than other neighborhoods."
Sharon Zukin, professor of sociology at Brooklyn College and at the CUNY Graduate Center, has conducted studies on the type of restaurants that do business in Bedford-Stuyvesant. She suggested that the neighborhood's cultural diversity is seen in the offering of restaurants and the changes in the retail corridor of Fulton Street, which is one of the main streets.
Zukin  explained that Bedford-Stuyvesant residents are very proud of their neighborhood, which is why low-income residents want to stay there despite rising costs. "The suffering of people who stay in Bed-Stuy is mitigated by their pride that the neighborhood is coming up," she said. "Some benefits have been brought by gentrification, but these benefits may be outweighed by the economic cost, the psychological cost, and the feeling that their neighborhood is not theirs anymore"
This is an opinion shared by Gould: "Sometimes, homeowners can stay longer and enjoy some of the amenities, too. Although, they have their amenities at the cost of losing their neighborhood, and they start to feel like more of an alien in their own neighborhood," he said. "This is where I live but I don't feel like I belong to the neighborhood anymore. This restaurant isn't for me, this supermarket isn't for me, the culture of the street isn't for me."
Gould said Bedford-Stuyvesant is a popular place "because of its attractive housing stock so that the white affluent population could identify with the neighborhood as a place they wanted to move into. The other thing is that this is a low crime neighborhood," he said.
To resist gentrification, Gould suggested that communities be more organized. "Well-organized communities with pre-existing social institutions like Uprose in Sunset Park, for example, are able to intervene in the public process and stop the rezoning," he said. "They are able to modify and fight proposals. A community that is not organized, cannot anticipate and is totally vulnerable."
Gould also suggested that more public policy intervention should be implemented to retain affordable housing. "We need rent control, stabilized rates. We need more affordable housing built, we need affordable housing maintained, we need more public housing, and we need the minimum wage raised well beyond $15 to meet to average rent in the city," he said.
One sign of poverty is households in which families are spending half of their income toward housing. The result is that many families rely on the Supplemental Nutrition Assistance Program, or SNAP, formerly known as food stamps, to eat. SNAP provides food assistance for nearly 1.8 million low-income New Yorkers.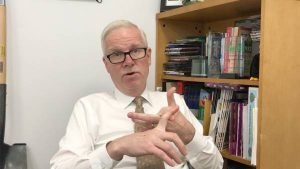 Butler thinks the expansion of programs such as SNAP can be important to tackle poverty. "If they increase the SNAP benefits, they could really reduce the demand in places like this [St. John's Bread and Life]," he said. "If they increase the SNAP benefits we could get to a point where only the folks who are using places like this would be very disorganized; the kind of classic folks like the homeless, folks with significant mental health problems, significant substance abuse problems. SNAP does work."
However, a SNAP expansion is not at hand. President Trump's budget proposal is asking for big cuts in almost everything. According to Butler, the president's proposal, if passed, will not have a big impact on St. John's Bread and Life activities because the organization is 90 percent privately funded and receives very little federal money.
The main concern for Butler is the reduction of the money available for food stamps. Unless the hunger problem is really addressed, he sees a bleak future with more large organizations like St. John's Bread and Life. "The problem is we still don't have a minimum living wage in this country," he said. "The minimum needed to live on is creeping up, which is why so many people working for Walmart are on food stamps. A great number of fast food workers are also on food stamps."
Video: Alain Gaillard reports for Brooklyn News Service on how rising rents in Bedford-Stuyvesant have led more people to soup kitchens.