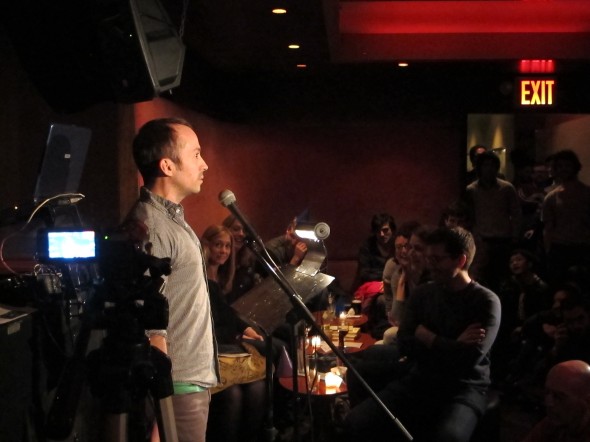 By ASHLEY BALAVENDER
The storytelling series How I Learned celebrated its four-year anniversary on Wednesday at Happy Ending Lounge in Chinatown.
Coming back from a brief hiatus, the monthly series produced by writer Blaise Allysen Kearsley featured five New York writers: Katherine Lanpher, Kambri Crews, Ted Travelstead, Elicia Berger and David Crabb.
Attendees sipped cocktails and donned party hats, sitting cross-legged on the floor and leaning against the walls as each performer told a story about a lesson learned.
"I was approached about doing a show here," Kearsley said of the series' conception. "I happened to be working on a story 'How I Learned About Sex,' and that's how I came up with the idea for How I Learned."
Kearsley said that the anniversary edition would not have a theme as the readings traditionally do. Past topics have included "How I Learned about breaking up, how to live in New York, that it's all my parents' fault and that there might be some issues: stories about therapy."
On Wednesday night, stories ran the gamut. Elicia Berger, who works for UNICEF by day and performs throughout the city by night, spoke of her first visit to an upstate monastery and the realization she had while meditating over an orange. "This is when I learned to meditate," she said, concluding her story, "or maybe I just think fruit is sensual."
Storytelling events like How I Learned are quasi-social events where literature meets comedy meets performance. Writer David Crabb had the audience laughing with his performance of his well written story about coming of age as a gay male in Texas.
After a confusing incident at a Halloween party, where a teenaged Crabb was dressed as Freddy Krueger in drag, the writer finally learned how to be himself and to be accepted as a goth kid. "Son, your friends look like superheroes going to a funeral," Crabb quoted his father as telling him. The writer concluded, "I learned that to make things awesome, I had to make everyday like Halloween."
The keys to a well-received story are similar to those for  a well written one: detailed descriptions, dialogue, a climax and a powerful conclusion. However, Kearsley makes the distinction between good writers and good storytellers. "I think this kind of show demands that you know how to read your work for an audience," she said.
Kearsley scouts extensively and weeds through countless submissions to find performers for the How I Learned series, which takes place at 8 p.m. on the fourth Wednesday of the month at Happy Ending Lounge. How I Learned has also recently developed a podcast. Happy Ending Lounge, located at 302 Broome St., hosts several reading series each month.