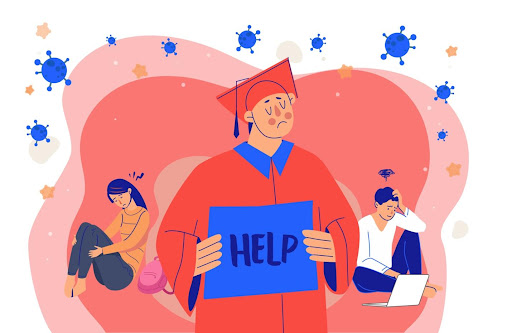 By SHIRLEY ALVAREZ
"Education is the most powerful weapon you can use to change the world," former South African President Nelson Mandela once said. But what happens when education becomes a weapon against you, and complicates your life by testing your mental health, with depression as a result?
Genesis Vancebi, a psychology major at Marymount Manhattan College, is a college student facing depression. "I think what has caused my depression is the amount of adjusting I had to do to fit in," she said. "I was transitioning from high school to college. So, I wasn't mentally prepared for the work I would be doing for just two classes during my first semester."
Ayodele Floyd, a psychology student at Brooklyn College, said that work and social pressures add to the workload burden. It's "not only the workload but the life surrounding that student" that can trigger depression, she said.
A 2010 study by Laura W. Perna found that nearly half of college students work an average of 34.5 hours per week. "I work and have a social life and attempting to arrive at deadlines can be quite overwhelming," said Floyd.
Christopher Alvarez, a marketing student at Baruch College, points out another factor that can lead students into depression: the lack of socialization. "In a college in the city, with no campus, there is a lack of social life, and this is what sparks any sadness or depression any student may have," said Alvarez.
Julie Wolfson, outreach and research director at Fountain House's College Re-Entry program, believes that there isn't an exact factor that leads students into depression, but the big college transition plays a significant role. "There can be a lot of things that go along with it. In addition to the academics that are rigorous, they might also now be responsible for their own meals and their own laundry and maintaining a living space," said Wolfson.
As Alvarez commented, socialization is big part of the college experience and Wolfson agrees that a student's struggle to fit in or find a social circle might affect their mental health. "If a student is isolating a lot, if they are not getting out, if they aren't meeting people that kind of fulfill that need for social community," she said, "those can be factors leading to students feeling depressed."
On the other hand, people like Marymount's Vencebi can become socially anxious when around too many people. "I'm transitioning from a public to a private school which means it is more intimate than public schools, and I have always been one not to socialize," said Vencebi.
One other crucial factor that can lead students into depression is financial instability. According to a study by Feeding America, 31% of people decide whether to pay tuition or eat. In addition, Federal Student Aid reports that about 44 million Americans have taken out student loans. According to statistics from the Education Data Initiative, student loan debt is over $1.61 trillion.
It is uncertain  whether President Biden will cancel or reduce student loan, debt, although he promised student debt forgiveness during his election campaign.
Cleyding Lopez took a break from her studies because she couldn't afford her tuition. "As an illegal immigrant who wants to improve her life, going to college is a more difficult challenge because I don't get student aid as other people whose legal status is different from mine," said Lopez, who was in her second semester at Kingsborough Community College.
Brooklyn College's Floyd sympathized. "I can only imagine for those who don't receive aid, not only would you have to worry about succeeding in classes, but also struggle to remain financially eligible to take these classes," he said.
In recent years, many students have seen Covid-19 as one of the causes of poor performance, which has emotionally and financially affected their careers.
"Covid destroyed my GPA," said Baruch's Alvarez. "Sure, cheating was the wave, and it did seem like easy A's, but without motivation to go to class and do classwork I just slumped hard," he added.
Other students started college during COVID, and don't know the difference between going to college pre COVID or during COVID. The amount of work required can be surprising. "I never have experienced college without Covid. However, I anticipated the amount there was to come and was somewhat prepared for it," said Floyd.
Although coming back to campus won't be the same for students, Floyd is glad for the new experiences. "I am excited to be here," said Floyd.
Floyd thought online school was going to be easier but was proved wrong. "Professors got creative and made the workload harder; due to this, my grades slowly began to decrease, and I was losing my mental stability," she said.
Counseling is a service offered to all students in colleges, but not all take advantage of it. "They always say, 'We understand,' but they don't. They are not in our shoes currently to understand what we feel," said Vencebi.
If you don't want to go to counseling at your college, there are other options like U ARE HEARD virtual counseling.
Marc Lehman, founder of U ARE HEARD, developed this platform as he noticed the lack of engagement between students and college counseling centers.
"Unfortunately, the statistic right now is that only 11% of students on campuses engage in assistance. In addition, students that are depressed and anxious are extremely on edge," said Lehman.
As well as U ARE HEARD, Fountain House's College Re-Entry offers a core semester to help students that are struggling with mental health challenges that wish to re-enroll in school. They also help those who transitioning to college for the first time. If you would like to get more information here is the link.
Unfortunately, it was not possible to obtain information on how the Brooklyn College Counseling Department handles students dealing with mental health challenges post COVID. The Department did not make anyone available for comment.