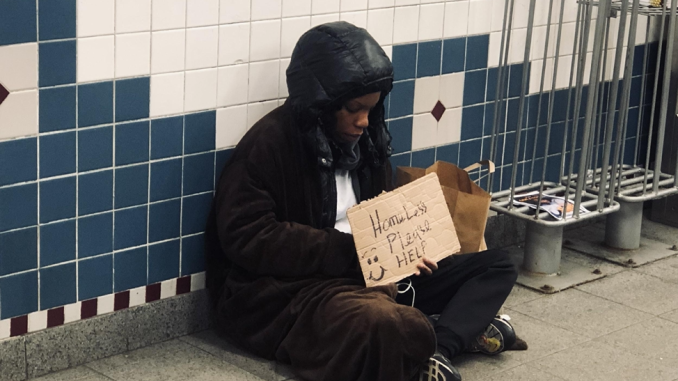 By TYRELL INGRAM
College students, workers, advocates and politicians are skeptical about NYC Mayor Eric Adams' subway safety plan  that was put into effect on Feb 21.
"Repeating the failed outreach-based policing strategies of the past will not end the suffering of homeless people bedding down on the subway," said Shelly Nortz, Deputy Executive Director for Policy with the Coalition for the Homeless.
The plan consists of three specific goals to address subway violence, as transit crime has increased 86.8% from 2021, according to NYPD data.
Response teams would be sent throughout the city to meet up with homeless individuals residing in the subway, ensuring that the unsheltered will be provided with housing and care, and working with government agencies to help improve housing and mental health services.
Five outreach teams will be deployed at Penn Station, the West 42nd Street corridor, Grand Central Terminal, West 4th Street, the Fulton Street Corridor, and Jamaica Center to provide alternative shelter to people living on trains.
Teams will include medical staff and psychiatric health clinicians to refer people to mental health services. In addition, teams will be stationed at a train's final stop to engage with unsheltered New Yorkers and place them into shelter settings such as stabilization beds.
On March 28, just a month after announcing the subway plan, the mayor implemented further measures against the homeless, by removing homeless encampments from the streets of New York.
Many New Yorkers oppose Adams' approach to the homeless.
Nortz stated that the mayor is trying to criminalize the homeless. "It is sickening to hear Mayor Adams liken unsheltered homeless people to a cancer," she said. "Criminalizing homelessness and mental illness is not the answer."
She continued, "We urge great caution with respect to any regulatory or statutory expansion of involuntary commitment or outpatient treatment standards, including Kendra's Law."
Kendra's law was legislation that was put into effect in 1999 after a woman named Kendra Webdale was pushed onto the tracks of an on-coming N train by a schizophrenic man named Andrew Goldstein, killing her.
The law gives judges the power to issue orders requiring people who satisfy certain requirements to receive mental treatment on a regular basis.
But "expansion of the legal criteria will not solve the problem and could result in pushing people in need further away from care," the Coalition for the Homeless deputy director said. "It will also not solve the problem of premature discharges or access to care when people seek it. It will not solve unsheltered homelessness."
Another individual had a similar sentiment in regard to the plan. A 24-year-old Brooklyn College student, who referred to himself only by his first name, Vern, said, "These people need to be housed, not in jail cells. The cops are just pushing people away into these jails by these summons and these tickets."
Brooklyn College student Alliyah Biggs wanted the mayor to put enough funding into providing services to the homeless and mentally challenged.
"They should find a plan to help the homeless people better," the 22-year-old senior said. "Funded shelters, job recruiters for the homeless, personal care assistants, counselors for the homeless."
One major criticism that the mayor received was the funding for social services.
It was reported that Mayor Adams' budget plan cuts $615 million from homeless services, decreasing the Department of Homeless Services spending from $2.8 billion to $2.15 billion for the 2023 fiscal year, according to City Limits.
Brooklyn Councilman Chi Ossé commented on the budget cuts when asked by the New York Daily News.
"I'm kind of confused as to how that plan will be carried out when there have been no significant investments in … street outreach," he said to the Daily News. "Do you believe that the preliminary budget that is proposed is adequate enough for addressing … our unsheltered neighbors that are seeking shelter on the subways?"
The Metropolitan Transportation Authority conducted a survey which found 29 homeless encampments within the subway tunnels and an additional 89 encampments in the subway stations, according to the New York Post, which estimated there are over 350 people living within these spaces.
One MTA worker weighed in on the matter. "It doesn't surprise me," Monita Jordan, Power Distribution Maintainer with the MTA said. "We have a large homeless population (in NYC) and they find ways to make some place home. Sometimes it's by all means necessary for them."
She urged the mayor to take a humane approach. "You do have many crimes that are done by homeless people, but it's not all homeless people," she said. "Some people need mental health services and independent living services. They need to come up with some type of better services such as job placement and low-income housing for the homeless."
In his March 25 announcement, Mayor Adams said a two-week operation would remove homeless encampments and place individuals in healthy living conditions.
"We can't stop an individual from sleeping on the street based on law, and we're not going to violate that law," the mayor told The New York Times. "But you can't build a miniature house made out of cardboard on the streets. That's inhumane."
Jacquelyn Simone, Policy Director for the Coalition for the Homeless, was sharply critical. "Once again, Mayor Adams is demonstrating his lack of understanding of unsheltered homeless New Yorkers," she said. "His administration has no plan to provide safe, single rooms where they can stay inside, and is relying instead on the tired and cruel old tactic of chasing those without shelter out of Manhattan."
She continued, "Like Giuliani, he will fail. Moving people to the outer boroughs will simply move them away from outreach workers, access to food, and the health and social services they need to survive," she said. "If the Mayor is serious about helping homeless people, he needs to open thousands of new Safe Haven and stabilization rooms and offer them to those in need, not take away what little protection they have from the elements and other dangers on the street."