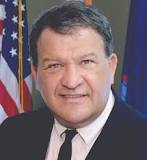 By JUANA NORALES
County Executive George Latimer painted a rosy picture of the progress made against the pandemic in Westchester  on Thursday, citing the plunge in the number of cases over last year when the area was a raging hotspot of the nascent epidemic
"Westchester is down to 5,700 cases this year compared to last year's staggering number of 11,200," he said at a press briefing.
The 67-year-old Democrat added that recent cases were  "slightly down," from a week ago though the numbers have been "relatively flat."
"We went through a five-week period where there was great reduction in the number and now we're sitting at about two weeks approaching three weeks where it is relatively flat its moved up and down just a little bit," said tbe Mt. Vernon native.
The number of people hospitalized compared to last year decreased dramatically with only 235 people this year and 1,107 people last year, he added.
And the county now has a low fatality rate for Covid deaths with only two fatalities the previous night compared to 18 the previous week.
Latimer also announced that 244,000 Westchester residents have gotten vaccinated and urged resident to make use of the many opportunities to get tested.
He again struck an optimistic note.
"Where we are today versus where we were a year ago today is dramatically different," he concluded.