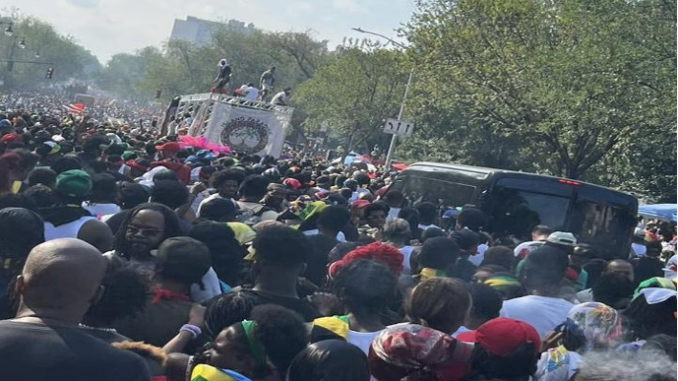 BY: MEGAN MODESTE
Similar to other years, New York City's annual West Indian Labor Day 2023 parade
brought color, music, and amazing food to Crown Heights, Brooklyn this Monday, September 4.
The parade started at 10 am right after the early morning j'ouvert celebration took place.
Thousands of Caribbean people made their way to Eastern Parkway to celebrate Caribbean
heritage and culture. Some people of other heritages came to explore and enjoy the West Indian
lifestyle as well. People came to drink, dance, eat, and enjoy their time with friends and family.
Many vendors lined up on the sidewalks selling food and accessories that people participating came to buy. Participants could try food from Jamaica, Trinidad, St.Lucia, Guyana, and other West Indian countries just by finding the right food vendor. Grace Brown, 46-year-old food vendor originally from Kingston, Jamaica, was at the parade selling dishes from her homeland. Brown offered jerk chicken, jerk pork, rice and peas, festival, saltfish, and so much more to her customers. Brown said, "Every year I come on the parkway and sell food. I can't remember a year I haven't come". Brown has been selling food during the parade for over 10 years and she says she has no plan on stopping because "business is always booming".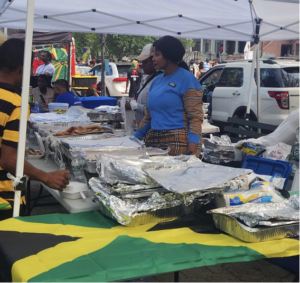 One participant, Shaniaya James, came on the parkway with her 13-year-old son and her boyfriend. James shared that she used to come on the parkway all the time when she was a child and she wanted to share this experience with her son. She did have many concerns about his safety though saying, "He has been coming since he was a baby also but I will never let him come alone because there is always a shooting or something happening."
Crime is always a great concern for participants because every year something happens at the parade. New York City Mayor Eric Adams and New York Police Department Commissioner Edward Caban claimed this parade was the best and safest in years as there was little crime but little before 5:30 pm on Eastern Parkway one person was shot and two people were slashed. The incidents happened in an area where participants had already passed so there weren't many people there. Although this happened, Mayor Adams still claims, "This is one of the safest J'ouvert celebrations and Labor Day weekends we have seen in recent memories, and probably the safest J'ouvert celebration in history".
Being safe during the parade is always a concern for participants but this doesn't stop them from going out and having fun. The West Indian Parade brings in lots of money for local vendors who sell food and products. Many participants go yearly and stay aware when they are at the parade so they are not in harm's way and can simply just enjoy themselves.