By ISAAC MONTEROSE
As Mayor Bill de Blasio's first term comes to an end, housing experts have a mixed view of his 10-year plan to build or preserve 200,000 units of affordable housing. They say that while they admire the ambition of the plan, they have criticisms regarding its current progress, its funding, its support among everyday New Yorkers and the actual affordability of its units.
The de Blasio administration says the plan is ahead of schedule, despite its cost, ambition and scope. For example, the mayor announced in July that his administration had secured 23,284 affordable apartments and homes during Fiscal Year 2016, which ended on June 30. It was said to be the second highest production in the city's history and the most since Edward I. Koch was the mayor.
According to the press release, 52,936 affordable homes have been financed, 3,500 affordable units have been secured for New Yorkers earning under $24,000 per year and even "more than 4,000 affordable homes for low-income seniors are also underway."
Even though the de Blasio administration has painted an optimistic picture of its affordable housing plan, experts have varying reservations about it.
Matthew Lasner, associate professor of Urban Studies and Planning at Hunter College, said that it was not going "as well as the mayor's office would have us believe." It's ahead of schedule in terms of overall numbers, he said, but that's because of the "preservation" of existing units through subsidies designed to keep buildings affordable.
"When you look at the, to my mind, the more critical number of new construction what we see is that so far the mayor is falling about 24 percent behind the plan," Lasner said. While the mayor has called for 8,000 units to be constructed per year, the rate is actually about 6,000 units per year, he said.
"Under the Bloomberg plan, 5,500 units were built per year by comparison. So he's only doing slightly better than Bloomberg did," Lasner said. However, in general, he said that it is a good plan that the mayor needs to lobby for in Washington, D.C. to seek greater federal funding in the form of housing subsidies.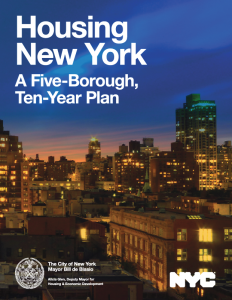 Other experts such as Alex Schwartz, professor of urban policy at The New School, also said that federal assistance is needed. "I think that's in large part due to the fact that cities simply don't have the resources to meet these kinds of needs which have historically been a federal responsibility," Schwartz said of the plan's inability to fully meet the city's housing needs. "The federal government, previously because Congress was not willing to increase spending, has not been increasing money for federal housing assistance and it's highly unlikely that's going to change in [the Trump administration]. It's probably going to get worse."
Others said that while the plan's goals were commendable there were other factors that needed to be taken into consideration such as the reactions of the neighborhood's residents. "The question of neighborhood ambiance and also the impact of these projects on neighborhoods is becoming a bigger piece of the puzzle than just adding affordable housing units," said Nicholas Bloom, associate professor of social science at the New York Institute of Technology. "There was this focus on adding these numbers but of course there's a lot of ways in which people look at housing experiences beyond just numbers."
Bloom said the administration should instead focus on preserving the existing 178,000 public housing units and attempting an "overhaul" of the entire public housing system. "I think that a pretty good argument for more affordable housing is taking care of all the stuff you've already built."
Advocacy groups for low-income New Yorkers have protested affordable housing developments in the past.
New York Communities for Change opposed a project aimed at providing low-income senior residents with housing that was being built within Ingersoll Houses in Fort Greene. The group said that the developer behind the project, BFC Partners, wasn't able to create housing that was actually affordable for local low-income residents and was also constructing luxury towers that would end up increasing rents in the area.
Benjamin Dulchin, the executive director of the Association for Neighborhood and Housing Development, sees these sorts of situations as a "key detail" that the mayor and his administration have gotten wrong when implementing their plan.
"We would say that the way he really preserves affordability destabilizes neighborhoods and what we try to do [to prevent this] is not by building and preserving a lot of affordable units but by building and preserving them in the right way," Dulchin said. For ANHD, in order for the plan to work, it is imperative "that what you're building is not just affordable on any scale but is actually affordable for the people who need it in the neighborhood in which it's built."
Dulchin also said that the goal of building and preserving 200,000 affordable units was too large and too ambitious. "We would say that they should increase the impact of the housing they build and the way they do that is by making it is as deeply affordable and long-term affordable as neighborhoods want," Dulchin said. "This is expensive to do. The city has resources and getting to [that level of] affordability requires subsidies. It takes money to do that and so I think we would say it would be pretty reasonable to back off the big number he's put out."
Despite such criticisms of the mayor's housing plan, experts say that overall it is still a good one. The lower- and middle-income residents of the city are in dire need of affordable places to live, after all. According to a 2015 report from the NYU Furman Center for Real Estate and Urban Policy on rent in major cities, an "overwhelming majority of low-income renters are rent-burdened–facing rent and utility costs equal to half their income or more."
As a result, there is some lingering doubt about whether or not the plan will succeed in actually providing housing that is truly affordable. "The question is," said Professor Bloom, "what is success? Is success meeting those numbers or is success making New York a more affordable place to live?"
Photos: Top, image from de Blasio administration's plan to re-zone East New York. Below, cover of mayor's affordable housing plan. (NYC.gov)