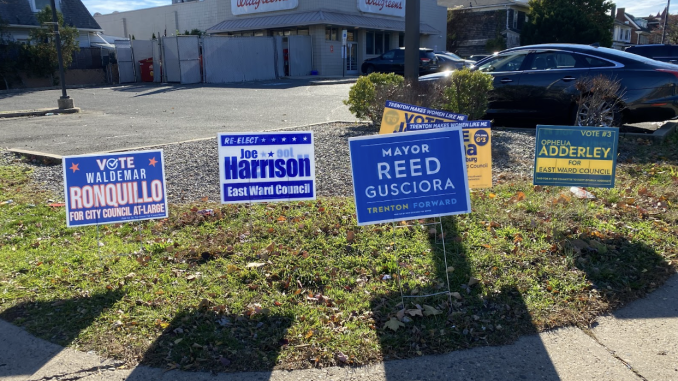 BY ARGENIS COLLADO 
Residents of Mercer County, New Jersey woke up ready to vote in the election on Tuesday, Nov. 8. But when they got to the polling sites they were told that the machines weren't working due to printing and scanning issues with the ballots. 
The Dominion Scanners – the automatic voting machines widely used in elections across the county – were not functioning and voters had to use paper ballots instead, that were later recorded at Trenton's Board of Elections. 
County officials had signed a contract earlier this year in March with the Dominion Voting Systems to ensure all votes would be counted. 
Some voters weren't surprised by the machines malfunctioning, as this also occurred last election cycle in Mercer County. 
Ruth Warfel, 70,  has been voting since she was 18 and says she isn't surprised by New Jersey's inefficiency to have an Election Day go smoothly in recent years. 
"I don't trust the system but I felt that I had to come out," said Warfel. "There's something wrong with the whole system." 
Warfel said she was so frustrated with how things went this year that she only voted for the House of Representatives and city council. She did not cast a vote for any of the mayoral candidates because she didn't feel represented by the candidates that were running. 
While there were voters who were upset with how their voting process went because of the scanner issue, others found the process to be less time consuming and more efficient since all they had to do was fill out the ballot and hand it over to a poll worker. 
Dennis DeLeon had to go to the Trenton Central High School polling location because the library he usually goes to vote at was closed. Aside from the change in location, DeLeon said he prefers just filling out the paper ballot adding that
 "It's better just sticking to people filling out the ballot, it's much quicker anyways, " DeLeon said.
Some voters said they believe it would be easier just to vote by paper ballot. Regardless of the scanning issues voters still went out to vote because they want to see one thing in Trenton, and that is change.
Ella Nolan, 63, has lived in Trenton her entire life and felt that this election has candidates that are focused on bringing change to Trenton and has trust that they will work hard for the people.
"The only thing different about it is you're not standing in the booth, you're just doing it on paper." Nolan said.