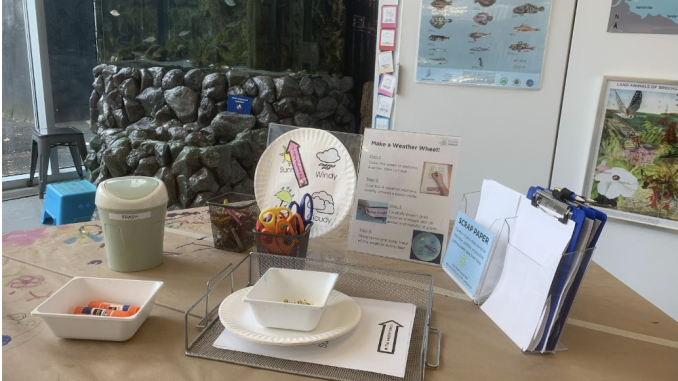 BY ILIANA CALDERON
The Brooklyn Bridge Park Conservancy's Environmental Education Center, located at 99 Plymouth Street in DUMBO, Brooklyn, is an educational space open for children, their parents, and local park goers on the weekends and afternoons. The goal is to educate people of all ages about the weather, water, tornadoes, fishes, and nature.
Their hours are open from 1-5 p.m. on Tuesdays, Thursdays, and weekends. Attendees are also welcome to visit around the park and partake in other activities nearby. The Center is within close proximity in the Dumbo area, surrounded with different tourist spots: such as the ferry landing, the carousel, restaurants, and the Brooklyn and Manhattan Bridges.
"It is always fun going out to the park and being able to get some fresh air, rather than spending the entire day at home. DUMBO is always a nice spot to go around when we visit the center," Berrios said, a local DUMBO, Brooklyn resident.
She also says that coming to the education center has helped her son a lot with learning.
"He gets so happy when we come here, looking at the fish tanks and being able to play with some of the crafts they have. We usually come on Sundays because it's not that busy so it feels nice to have that quiet space here," 
The Conservancy Education Center isn't just for children. The program reaches out to teach different schools about the environment and the sciences. Using the park as a laboratory, students are able to be more hands on with learning and are able to get into learning in a more proactive way. Also, they have had different programs, such as STEAM programs, online resources, and professional development opportunities. 
Isa Del Bello, the program organizer of the center, said that she hopes the space continues to be fun and exciting to children of all ages. Del Bello also says that the education center is meant to make learning more fun. 
"We wanted to create a space for kids who wanted to learn about nature, the weather, the science behind it, and read. Sometimes it's hard for kids to learn at home or maybe they aren't in school yet, so we try to do what we can and have that space where they can learn and enjoy learning." 
Del Bello also said that while they were closed during the pandemic, they encouraged visitors to continue educating children from the safety of their home. Del Bello said that many students she sees in the center are excited that the exhibits are more hands-on rather than online.
 "Online learning can sometimes be difficult for children," Del Bello says, "we still encouraged parents to educate their kids from the safety of their homes and have them maybe look at the weather during the pandemic or how the flowers sprouted during the spring of the pandemic."