By ANGELICA BERRY

Paula Lacobara, 38, and Rob Tatho, 42, stood laughing as they waited for entry to the chapel in the city clerk's marriage bureau in lower Manhattan. They are from Jersey City, have been together for two years, and decided two weeks ago that Tuesday would be their wedding day.
"'Cause we're corny," Lacobara said with a laugh about their decision to marry on Valentine's Day. "Before it didn't mean anything. Now it has meaning: our wedding anniversary."
The city clerk's office is a popular spot for many couples on Valentine's Day. A swarm of lovers filled the great hall at 141 Worth St. on Tuesday anticipating their rapid, DMV-style wedding ceremonies.
The bright rotunda space behind the chapel clerk's desk was continuously crowded through the morning. Couples and company rotated in and out of the east and west chapel rooms. They waited in the circular space with anxiety and joy. Some stood and others sat on the pastel green couch. They all keenly listened for their names every time a door opened.
"I feel like the floor is going to drop any second," said Ron Muga, 38, alongside his lady Juliana Gorda, 24, as they waited for their chapel call. Gorda was wearing a long white gown with small buttons on the back, a large silver hairpin with pearls, and was holding a colorful bouquet. This couple from Queens has been together for almost a year and the groom said he felt that Valentine's Day is the top day of the year to wed.
"It's a beautiful day. Perfect," he said. "It has a great meaning. It's a special day to be with someone you really do love and see yourself spending the rest of your life with. This is the best time to do it; you'll never forget it."
Many couples said they believe that wedding on Valentine's Day will be memorable. "It's an easy day to remember," said Eve Stean, 28, sitting next to her love of six and half years, Graeme Moppett, 29. She had a red rose tucked behind her eye into her hair. The couple is visiting from England and decided to get married during their New York vacation on a day already marked for love. They were calming their nerves by intently observing the brides and grooms surrounding them. "It's interesting to watch who goes in and out. We're being a bit nosey," Stean said.
There was definitely plenty to see. Couples of all kinds moved around the hallway and through the chapel either solo or with their family and friends in tow. There was action from every angle, including children running in the midst of people purchasing flowers and posing for photos.
In addition to the customary wedding scene, there was a new sight for Valentine's Day weddings this year: same-sex couples. Two blonde women in matching short lace dresses, one in white and one in red, wearing small veils, and each holding a bouquet were eye-catching. Eugeniia, 23, and Daria 24, together for 10 years, were ready to be wed. "We are here because here we can marry because we're lesbians," said Eugeniia before she and her bride rushed in their heels to the chapel.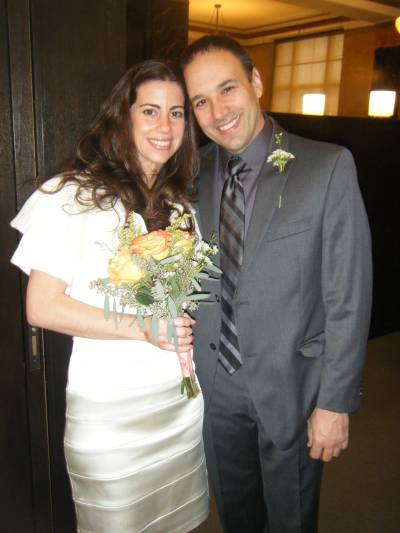 The waiting area for the chapel was the eye of the storm for the wedding crush. Sylvia Nauth, 21, said she was happy to marry on Valentine's Day.  "I like it," she said, dressed in  a short white dress that poufs out and has a hot pink band around the middle decorated with rhinestones. Her earrings sparkled through her long straight black hair. "I think it's a day for lovers."
Abigail Martinez, 22, and Delilah Ortega, 18, from Jersey, embraced in their red ensembles as they waited for their turn in the chapel. "I have no words, that's how nervous I am," said Martinez.
Rebecca Pabon, 24, stared at the screen over the chapel clerk's desk eagerly waiting for her number to show. She was waiting for one of her dreams to come true with Alejandro Hidalgo, 29. This couple from Manhattan has been together for four years. "It's a day of the lovers. I've always wanted to get married today," Pabon said.
Any wedding at the city clerk's office follows the same process. A couple with a marriage license, gets a number from the information desk, gets processed at a window, and does a lot of waiting for a one- to two-minute ceremony. "We don't take appointments. We try to marry as many people as we can so we're required to keep it brief," City Clerk Michael McSweeney said. Weddings take place Monday through Friday 8:30 a.m. to 3:45 p.m.
A small shop in the middle of the hallway sells fresh flowers for soon-to-be newlyweds. It offers seven bouquet options; the most expensive is roses for $50 and the least expensive is made up of a Calla lily for $15. Other arrangements include carnations, hydrangea, air jordan 5 and alstroemeria. The shop also provides three types of boutonnieres. Aside from flowers, the shop sells New York City memorabilia and wedding-themed gifts. There is a photo station with a backdrop of a building and clouds.
"Last year, 169 ceremonies were performed on Valentine's Day," McSweeney said. "We are hoping to exceed that number this time. When Valentine's Day falls on a Friday the number is going to hit the roof."