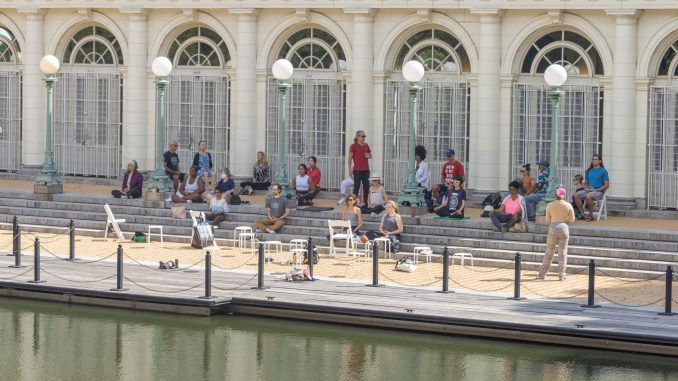 By BROOKLYN COLLEGE JOURNALISM STUDENTS
With the backdrop of the Prospect Park Boathouse, Dr. Chok Tenzin Monlam walks purposefully around his outdoor class, guiding and repositioning students toward a more mindful meditation practice. Clad in a red, loose fitted t-shirt and black slacks, Monlam gently reminded students to stay present and keep your spine straight. At the end of the class, Monlam finished with brief breathing exercises.
Despite the roar of airplanes overhead, Monlam continuously coaxed and guided the class through the distraction – the essence of meditation.
About 25 students attended the open air session, which was one in a series called University Open Air – a collection of free classes taught by immigrant scholars from around the world. 
"I used to teach in the forest, I teach my students in the open air. Because they really feel relaxed and surrounded by nature. And here, you hear the airplane, you hear the birds chirping, and here we have water," said Monlam during the Sept. 8 "Tibetan Seven-point Vajra Posture and Benefits: Opening five chakras and energizing five pranas/energies within" class.
Many students joined the class to find a respite from their busy lives. Susan Hemly said she came to participate to release stress in a calming environment. 
"Because I like that it's a free program by the library… and I love the benefits for my mind and body. It is very peaceful and helps my stress release process. I knew I had to incorporate it into my life," Hemly said. 
The Brooklyn Public Library hosts the University Open Air series, which is now in its fifth year. Classes are free and open to the public. 
In addition to the meditation course, University Open Air offers a variety of other courses, such as drawing, writing, Salsa music and cinematography. Workshops are taught by immigrant educators across a variety of disciplines. 
"The intention is to provide a platform for scholars from other countries to teach, obviously, in the open air and public space and typically, they're people who don't teach in universities for a variety of different reasons," said Vanessa Baish of the Brooklyn Public Library, who coordinated the event on site. 
"The hope is both that we offer something to the community and that we get to take advantage of this lovely park space, this is a collaboration with the park and that instructors have an opportunity to show their talents and find other work as a result in their field." 
Many participants in the Open Air Series visit the classes to learn, to enjoy the outdoors and to make new connections in the community. 
Miguel Salandy, a Brooklyn resident originally from Trinidad and Tobago, said he was excited to experience new things.
"I expect to get some new knowledge, something that I didn't have," he said. "It's always good in life everyday to try something new," Salandy said. 
Another popular class, "Drawing from Nature," filled up on the afternoon of Sept. 8. The class is taught by Alon Andorn, originally from Israel, and focuses on seeking artistic inspiration from the surrounding natural habitat. 
More than 20 people sat together under a tree with clipboards, paper and pencils, ready to be inspired. 
"I usually have free time around this time and I like to spend time by trying new things and different activities and drawing in the park sounds very peaceful, so it's nice to be here," said Rose Williams, 56, of Prospect Heights. 
Baish said she hopes that the Library's open air courses can reach more residents in the community. 
"There's just so many kinds of classes, additional classes that we can teach. We were actually just talking about finding even more instructors and ways that this can translate to other kinds of classes," Baish said. "Honestly, I just love seeing how much people enjoy it." 
The University Open Air courses continue through Sept. 18, with courses in Feng Shui, cinematography, renewable building materials, and more. For more information, visit the University Open Air website. 
Iliana Calderon, Esther Chabbott, Argenis Collado, Alanis Guinada, William Hernandez, Niara Johnson, Jesus King, Berry Negron, Emin Purisic, Brittany Royal, Kelsey Santos, Tanesha Thorpe and Juwan Wyatt contributed to this report.