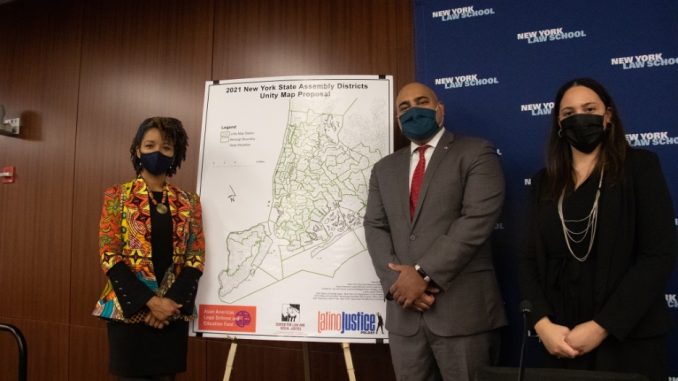 By JOHAN ABDU and JULIAN WATSON
The "Unity Map" was unveiled Thursday morning at the New York Law School to viewers over Zoom and the few in attendance. It is a redistricting plan to better represent New York communities of color and their individual voting power.
The coalition is the collaborative effort of three prominent advocacy groups for the rights of minority groups in New York: The Asian-American Legal Defense Fund (AALDEF), The Center for Law and Social Justice at CUNY Medgar Evans College (CLSJ) and LatinoJustice PRLDEF (Puerto Rican Legal Defense and Education Fund).
Formed over three decades ago, the Unity Map Coalition addresses the disenfranchisement of Black, Asian, and Latino communities and attempts to redesign lines of various electoral districts.
In 2010, the coalition advocated for the adoption of the Unity Map for redrawing congressional districts in New York City and State. That is serving as a model for the future. The group is now unveiling a redesigned map for the city and state's ever-growing communities of color.
The coalition has worked diligently over past months, collaborating with communities that typically do not vocalize on these issues. The coalition has documented the increase in Asians in different boroughs. According to their statistics, there have been double digit increases in the decades of this century, in Brooklyn, Manhattan and Queens. An appropriate increase in political representation will better serve those Asian communities and their needs, the coalition says.
New York City funded outreach efforts for the 2020 Census, spending millions and coordinating with dozens of community groups to assure many New Yorkers, especially those of color, did not go uncounted in the midst of the pandemic.
The AALDEF released a press statement after the conference, clarifying their intentions and the importance of what they were doing.
"The Coalition's mapping process is guided by a commitment to create districts that accurately reflect demographic changes in the population while preserving communities of color in districts that enhance their ability to maintain political power and advance the issues and candidates that reflect their interests and impact their residents," according to the release.
Lourdes Rosado, President and General Counsel for LatinoJustice, spoke about why this redistricting is so important. "Redistricting is often encumbered in practices that tactically cancel out the collective voting strength of marginalized communities."
She added, "Our Unity Map once again is a reflection of not only the population growth among communities of color in New York City, but also an example of a non-partisan equitable and fair map that does not dilute or diminish the vote of Latino, Black or Asian New Yorkers."