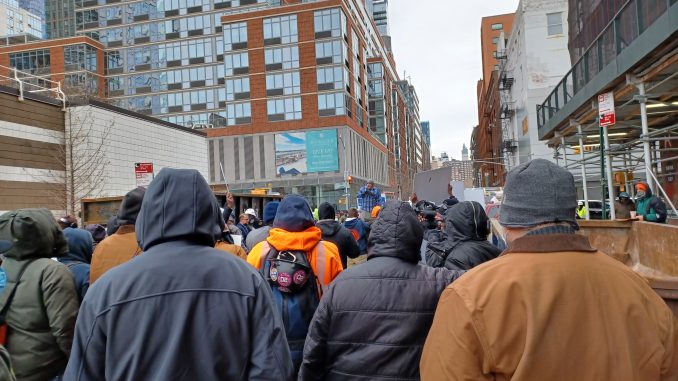 By GABRIEL SALAS
Nearly 100 immigrant workers and their supports rallied outside the Terminal Warehouse in New York City in the freezing weather to protest on Feb. 24 to protest their lack of any sort of healthcare as undocumented construction workers.
This was the second rally held by these workers held as they called for a union to protect them at construction sites that treat them as expendables.
"I'm here to support the rally and I will not let go." Diego Peña, one of the construction workers present at the rally who was recently fired said in Spanish. "When they talked to the boss, they said there was no work and the person here charging for the labor also said there's no work for them."
Peña, along with other protestors present at the rally, said they were fired for standing up to the exploitation they have been faced. They were told by their bosses that the is no work and they are not needed for the job.
"The workers who bravely stood forward to call out those conditions have now lost their jobs. Shame on PIMCO! Shame on PIMCO!" Manhattan Borough President Mark Levine said.
PIMCO is the target for these rallies and PIMCO is one of the world's largest bond fund organizations with their priorities on funding construction projects that are supposed to help laborers, carpenters, ironworkers, and other trades. Protesters say that the money is not reaching construction workers.
One of the organizations there to support this group of protestors support is the New Immigrant Community Empowerment (NICE). NICE's goal is to serve safer alternatives for workers who now get jobs as day laborers by lining up on street corners, are exploited by fraudulent employment agencies, and who have little access to workforce development services
"I'm here today to stand with union workers and to stand with me as one single voice."  Roberto Perez, one of the current members of the NICE said in Spanish, "I'm standing with zero tolerance against employers, and contractors who are exploiting construction workers."
Perez having experience as an immigrant worker has worked in the past with construction companies who subject him and many of his coworkers to work for 60-70 hours a week while only being paid for half of their time, with other workers completing a full day of labor and not being paid at all.
"What do we want? Union! When do we want it? Now!" the group of protestors chanted as they rallied outside Terminal Warehouse
New York City is home to roughly 3.1 million immigrants according to the New York City Mayor's Office of Immigrant Affairs. With 38% of the city's population being made up entirely of immigrants across all five boroughs and 45% of New York City's workforce being done by immigrant workers.
"We all know how dangerous construction work is. We cannot afford to ruin our family because the rich want to cut corners on safety, because they want to steal wages, because they see black and brown workers as disposable," New York State Senator Jessica Ramos said.