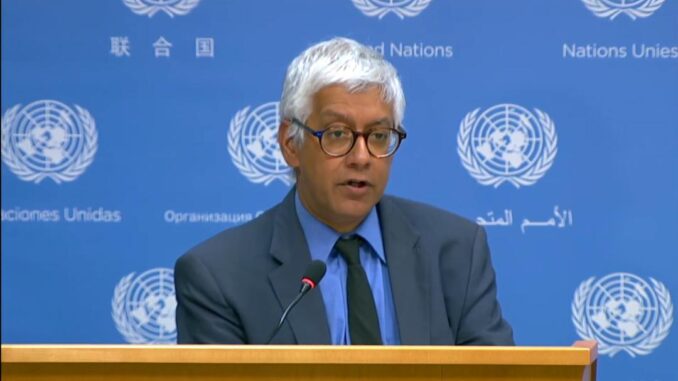 BY JACK DWECK
With multiple different crises in the Central African Republic, Ukraine, and other countries
including rising heat, hunger, and deadly attacks, the United Nations General Assembly stressed
the need to assist these nations in a meeting on Wednesday.
Farhan Haq, the Deputy Spokesperson for the Secretary General hosted a briefing with guest
Mohamed Ag Agoya, the Deputy Special Representative of the Secretary-General to tell
reporters what steps the U.N. need to consider.
Deputy Haq started by discussing Climate Change. He says that Secretary General António
Guterres responded to findings from the World Meteorologist Organization, saying that "the dog
days of summer are not just barking, they're biting," before revealing that this August was the
hottest on record. This year has also been the second hottest on record so far behind 2016.
He then says that leaders must "turn up the heat" now for climate change solutions, as air quality,
human health, and the environment are at stake.
Deputy Haq then discussed recent attacks in Ukraine, such as one in the Donetsk and Zaporizhia
region, and one in the Kostiantynivka region that hit a market, killing and injuring dozens,
including children. Haq shared a statement from Denise Brown, the Humanitarian Coordinator
for Ukraine. "This tragic and unacceptable event is another example of the suffering that Russia's
invasion inflicts on civilians across the country."
Hans Grundberg, the Special Envoy of the Secretary General for Yemen, visited Abu Dhabi and
met with Senior Emirati officials and Yemeni stakeholders. Grundberg said that they needed to
progress towards peace to improve living conditions for residents to keep them safe.
The Democratic Republic of the Congo released an update about how their peacekeeping
mission, MONUSCO, welcomed actions taken by the government after multiple demonstrations
and protests on August 30th which resulted in the deaths of multiple protesters, as well as
security and defense officials. MONUSCU says that regardless of their rank, those who have
done these acts should be held responsible.
Deputy Haq then goes on to talk about the rise of online hate speech targeting women in politics
in Costa Rica before the upcoming elections in February of 2024. Online hate speech has risen
by 50% in the past year, and the amount targeting women has risen by 72% in that same time
period. Resident Coordinator Allegra Baiocchi launched a guide to protect these women ahead of
the elections in order to make them feel safer, and to encourage them to run without being
intimidated.
Deputy Special Representative of the Secretary-General Mohamed Ag Agoya took over as a
guest speaker talking about the crisis in Chad. More than 700,000 people have become refugees
in neighboring countries. Chad has helped 18,000 refugees after the crisis in Sudan. As of June
2023, there are 2.4 million refugees that have been displaced from South Sudan.
He finished the briefing by stressing the need for funding to give more humanitarian acts for
Chad.