By BRENNEN JOHNSON  
Donald Trump has gone to the churches in an attempt to pick up his dismally low showing of black Protestant support, but interviews with voters in Brooklyn show he's unlikely to make any progress.
The black Protestant vote played an important role in Barack Obama's two presidential races, and Democratic candidate Hillary Clinton is eager to get similar support. But neither candidate this time around is especially popular among African Americans.
"The change Trump is talking about is the change we've been fighting to stop," the Jamaica-born Assemblyman Nick Perry (D-Brooklyn) said. "The economic impact of what he proposes to do will destroy the world."
But at the same time, he said, Clinton also faces credibility problems in the black community.
According to a mid-September Quinnipiac University poll, Clinton commands two-thirds of black support while Trump has just 8 percent. Trump has declared he's going to improve on that 8 percent. Clinton strategists, meanwhile, are worried that black voters, especially younger ones, will care enough about the former secretary of state to come out and cast their ballots.
African Americans supported Obama, the nation's first black president, by far larger margins than Clinton is getting in polls. But many African American Protestant voters say they are highly unlikely to vote for a Republican, according to the Quinnipiac survey.
Dalton Robinson, who manages Perry's Flatbush district office, said he agrees with Trump's ideas to create jobs but is against his plan to deport immigrants. "The one thing Donald Trump's talked about is how he's going to make America safe again, but he hasn't spoken about civil rights and liberties," Robinson said.
Indeed, Trump's "law and order" pitch is seen as a challenge to African American opposition to aggressive police tactics.
Black Protestants see Trump's visits to their churches as a desperate attempt to garner support from black voters.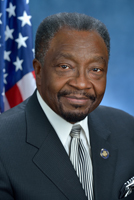 "Political maneuvers reel in ministers, and advocates seeking to risk the future of America just for donations and publicity," Perry said.
While some black ministers have met with Trump, across the nation pastors from historically black churches have delivered anti-Trump speeches aimed at persuading their congregations to vote against him.
Long Island University junior psychology major Lisa Matthews, 26, said it's incomprehensible to her why any one would support him. "At this point I don't think he's sold himself to the younger generation," she said.
Matthews said that she's heard pro-Clinton preaching in her church, Evangelical Crusade, and added that her denomination urges its members to freeze Trump out of the race. Evangelists typically view gay rights as an abomination against the Bible and mentions of same-sex issues are taboo in conversation among church members. This hasn't stopped Matthews from supporting the LBGTQ community.
"Everybody is entitled to choice," Matthews said.
She's thrown her support behind Clinton because the former first lady is relaxed on policies involving immigration, and gay rights, and is adamant on her plans to tackle the plague of gun violence across America.
While Trump doesn't have many supporters among African Americans, there are some. Jason Wade, 23, a single father and junior mass communications major at Medgar Evers College, is one of them. Wade said he abandons the sermon before it ends at Southern Baptist Church in Crown Heights, Brooklyn to reject the pro-Clinton rhetoric given as a spoken word recital. He barely discusses politics with other members because their political views differ significantly given his support for Trump. Wade is an aspiring police officer and said he supports Trump's ideas on immigration and agreed on his support for the police, but said Trump needs a concrete plan for law enforcement.
Trump frequently speaks on the importance of honoring the police. "All I can do is, from the top, I would be very, very strong in terms of being a cheerleader for the police. They do a great job and they are not recognized for it," he told Fox News.
Wade said he wants Trump to win because Clinton's health is a concern for him; she lacks the business mindset; and won't back up his community, or create jobs.
"He'll have my vote, no matter what," Wade said.
Trump was welcomed in two appearances at predominantly African American churches. He spoke at Great Faith Ministries International in Detroit, Mich. He attended service with Dr. Ben Carson, who ran unsuccessfully for the Republican presidential nomination, and former "Apprentice" contestant Omarosa Manigault, who's now a minister.
His political efforts in the second case were cut short, however. The Rev. Faith Green Thomas, the pastor of Bethel United Methodist Church in Flint, Mich., interrupted Trump to stop him from criticizing Clinton. She said the purpose of his visit to Bethel, which had helped Flint residents respond to contamination of their water, was supposed to be to thank the church for the work it had done.
Photos: Top, Donald Trump is trying to improve his low standing among African Americans by speaking at black Protestant churches. (DonaldJTrump.com)  Below: Assemblyman Nick Perry.