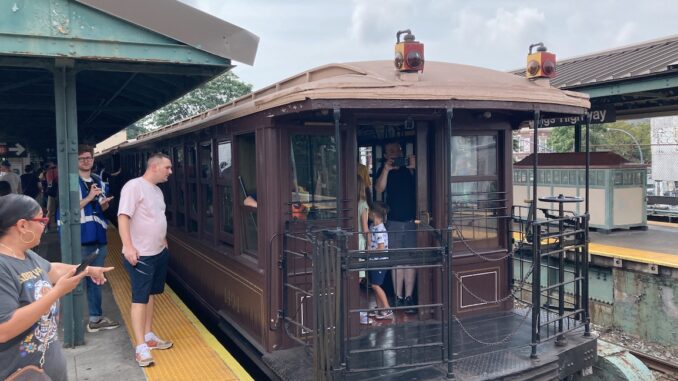 BY ALLISON DUBROW
Eager passengers lined up to go aboard trains as old as 100 years to experience history. This past weekend, riders got to experience what riding the train was like in the early 20th century when there was no technology, air conditioning, or harsh illumination on the ride.
"I don't take the trains as often as I used to but I'm taking this because it's a vintage train," said Drake Baker, a retired Department Of Education employee from Brooklyn. 
People rode vintage train cars on Saturday, as the Transit Museum put on a train parade with ten minute rides back and forth between the B/Q platforms at the Brighton Beach station and the Kings Highway Manhattan-bound platform. 
Some train enthusiasts dressed up in vintage clothing, going back in time with fashion to get a real feel for what it would have been like to ride these trains when they were originally in service in the early 20th century. 
The New York Transit Museum has been putting on events showcasing the older trains since the mid-70s, through the nostalgia rides series. While tickets to visit the Transit Museum cost ten dollars for adults, the price to participate in the train parade was the cost of a metrocard swipe.
This event has taken place nearly every year since it first began. One of the featured trains was the BU Gate Car which was created out of wood on top of steel. In order for passengers to enter and leave the train, they need to use the open platform at both sides of every cart. 
"The Transit Museum is extremely fortunate to have over a century of rolling stock that still rolls and we're delighted to be able to be a 'museum without walls' and bring the vintage fleet to you for the weekend!" said Concetta Bencivenga, Director of the New York Transit Museum to the publication 6sqft.
A lot of the people who decided to partake in this parade of trains did so because the trains are vintage, and many have stated that this was not their first time riding the classic trains. But, they also agreed that they take the subway even less than they did before the pandemic. 
According to the NYC Comptroller, Brad Lander, "In February 2023, subway ridership was at 65% of pre-pandemic levels–up from 56% at the same point in 2022." 
This comes at a time when the MTA has raised the base subway fare from $2.75 to $2.90 while also trying to get ridership back to what it was before the pandemic. 
While ridership in general is down, there seems to be strong enthusiasm around riding the classic trains.