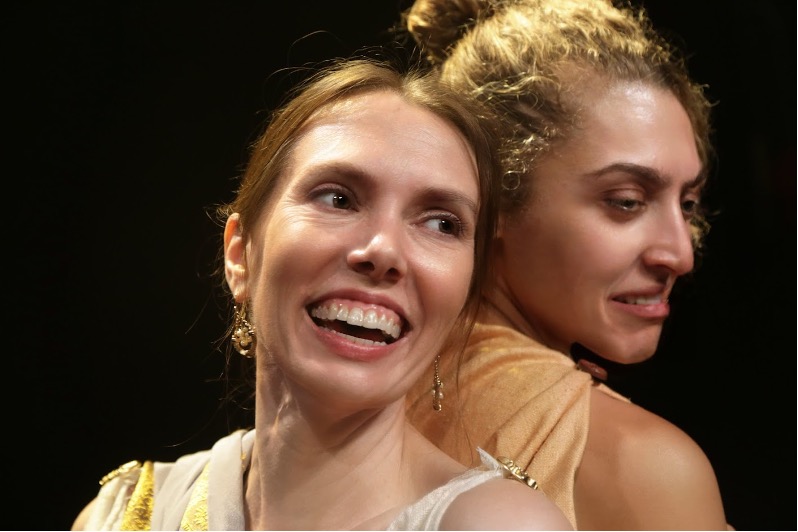 By MARY ZAKHAROVA
Theater for the New City (TNC) is welcoming New Yorkers to the new play "The Wayward Daughter of Judah the Prince." The play opened Thursday and will run through Oct. 10.
"The Wayward Daughter of Judah the Prince" tells a story of Hannah, daughter of Judah the Prince, compiler of The Mishnah, the core section of The Talmud. She serves her father as his loyal daughter. When Hannah gets caught in the embrace of Sarah, her Christian slave girl, she has to decide: staying with her father and marrying a rabbinical student he favors, or escaping with Sarah to a faraway region of the Mediterranean, where her rebellious lifestyle and intellect might be tolerated. So says a press release from the Theater.
Douglas Lackey, playwright and a professor of philosophy at Baruch College, CUNY, created this play "based on someone testing the primacy of inherited truth by challenging it with the rich brew of ideas that were banging around in the late Second Century."
Lackey said that Hannah, the main character, is based on two models: Yentl, the Yeshiva girl "who yearns only for the Torah," and Hypatia, "the ancient mathematician and astronomer who met a tragic end at the directive of Kyril, bishop of Alexandria."
"Hannah's Jewish learning provides an effective foil against the ideologies she confronts in the play until she meets Plotinus in Rome. Then her devotion changes from her father's creed to aesthetics and empirical science. Her form of rebellion, triggered by spiritual hunger, is a repeating cultural phenomenon through the ages and has recently been dramatized in such iconic productions as 'Unorthodox' and 'Shtisel,' according to the press release.
Lackey said he is grateful to present such a story. "TNC is willing to take on my "comedies of ideas" and these are quite different from the contemporary obsession with those of jumbled identities and failed relationships."