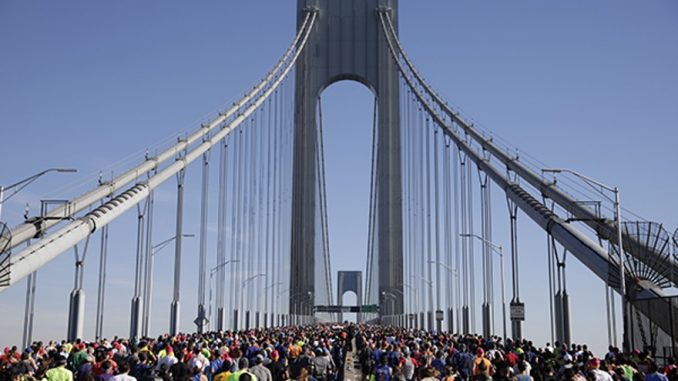 By MARY ZAKHAROVA
Today, November 4, Olympic and Paralympic medalists, world-record holders and other champions got together to discuss the upcoming TCS New York City Marathon.
The TCS Marathon started as a running club of 40 people. Now it is the world's largest marathon, that this year includes around 33.000 runners. These are both professional athletes and amateur runners of all the ages.
(TCS stands for Tata Consultancy Services, the New York City Marathon's main sponsor.)
It's been two years since the last city marathon – the 2020 race was cancelled do COVID-19, and all the runners are happy to be back to support and cheer up New Yorkers during this, the fiftieth marathon.
The marathon has been long awaited. Ted Metellus, the race director, even compared this year's run with the 2001 marathon, which happened soon after the September 11 attacks. "So many 'thank you's,' so many 'welcome backs.' I feel like there will be a similar feeling this year in 2021, seeing what we all went through last year," said Metellus in an interview with The New York Times https://www.nytimes.com/2021/11/03/sports/nyc-marathon-guide-start-times.html
The marathon starts in Staten Island and goes through Brooklyn and Queens, then across the Queensboro Bridge to Manhattan, the Bronx, and, finally, to Manhattan, where the race finishes in Central Park. The whole route is 26.2 miles long.
Organizers is making sure all COVID-19 precautions are being taken.
This year, all the runners are allowed to have fuel and hydration belts, so that there is no crowd at water stations. There will also be hand sanitizing stations along the route.
Masks will be required at the start of the marathon, as well as a negative COVID-19 test or proof of vaccination provided 48 hours before the marathon begins.
The organizers also made more "waves" to keep safe distances between the competitors.
For those who don't want to watch the marathon in person, ESPN will be broadcasting live, including the pre-race, the marathon itself, and post marathon. The livestream will be hosted from 7 a.m. to 1:30 p.m., on Sunday.