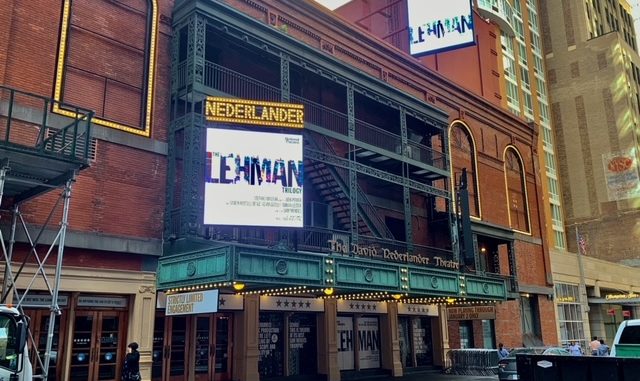 By JOHAN ABDU
Broadway will finally see Italian playwright Stefano Massini's critically acclaimed The Lehman Trilogy. This will be a return to New York after an early 2019 Off-Broadway run sold out shows around Europe and won several award nominations.
It will be Thursday night at the Nederlander Theatre on Broadway.
Lehman was originally set for a March 2021 Broadway debut but was hit, along with the rest of Broadway, with the pandemic shutdown.
The production will run for 14 weeks. It is being directed by Academy Award and Tony Award winner Sir Sam Mendes. Adam Godley and Simon Russell Beale reprise their star roles, while Adrian Lester will replace original cast member Ben Miles.
"It couldn't be more perfect that Adrian Lester will be joining our production of The Lehman Trilogy on Broadway," Mendes told Deadline. "He was the first person I offered the role to, way back when we first mounted the production in London…so on some level it feels like destiny."
The Lehman Trilogy is told in three acts, recounting the legacy of the family behind the notorious financial institution, through its early development and its successes and failures, leading up to the Lehman Brothers' bankruptcy, which spurred the 2008 financial crisis. Godley, Russell and Lester will play members of the the Lehman family while also playing other minor roles.
This reopening is not crediting producer Scott Rudin, who announced he would "step back" from production amid accusations of a poor workplace environment and harassment, but it will still feature his former Neal Street Productions.
Lehman has been critically well-received everywhere it has performed, shining a stage light on the early years of American capitalism. Debuting in France back in 2013, Massini's play was translated and adapted into 24 languages and was nominated for Best Play at the 2018 Evening Standard Theatre Awards and for five Laurence Olivier Awards in 2019, including Best New Play, Best Director and Best Actor.
The Lehman Trilogy will debut this Thursday evening under much anticipation and is exclusively for the media. General public tickets are available for future performances and available at thelehmantrilogy.com. Masks and proof of vaccination will be required at the theater.