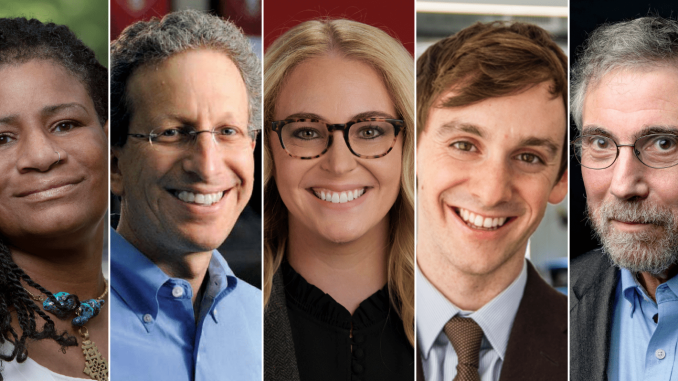 By: TYRELL INGRAM and SAMIA AFSAR
A record 20 million workers quit their jobs in the second half of 2021, according to the U.S. Bureau of Labor Statistics, resulting in a trend some are calling the 'Big Quit,' or the 'Great Resignation.'
Paul Krugman, distinguished professor of economics at the CUNY Graduate Center, Nobel laureate, and New York Times columnist, led a virtual panel of experts on the evening of February 16th, 2022, to discuss The Great Resignation of 2021.
Research conducted by two of the panelists, Lawrence Katz, professor of economics at John Jay College; and Derek Thompson, staff writer at The Atlantic, showed that fewer people are willing to work following the changes that occurred during the pandemic. 
For the first time in 40 years, Katz said, the country is witnessing minimum wage workers doing better than expected due to government aid and stimulus payments, which has resulted in an overall disinterest in returning to the workforce. "Inequality has actually narrowed," said Katz. "Unlike in the Great Recession, they [minimum wage workers] have had the financial ability to hold out longer, especially with concerns about safety of going back to in-person services and other care responsibilities," he said.
Katz and Thompson also attributed the growing trend of resignation rates to employees leaving their current jobs to apply for higher-paying opportunities. We shouldn't call it 'The Great Resignation' but 'The Big Switch'," said Thompson. "What the big switch or great resignation is mostly about is low wage workers in retail, leisure, and hospitality leaving jobs to go to another job that is paying them a higher wage."
Caitlyn Collins, assistant professor of sociology at Washington University in St. Louis and author of Making Motherhood Work: How Women Manage Careers and Caregiving; and Michelle Holder, president and CEO of the Washington Center for Equitable Growth, associate professor of economics at John Jay College, were also panel speakers and discussed the role mothers and older workers played in the Great Resignation.  
The lack of access to child care, and the opportunity to take paid leave in order to take care of their children, influenced black mothers and mothers with less education to quit their jobs. In September 2021,1.3 million fewer mothers were employed compared to the beginning of the pandemic, according to Collins.
"Mothers, especially those with young children, had been disproportionately affected by the pandemic, especially with daycare and school closures," said Collins. "When schools and daycares shut down, parents didn't have anywhere to turn to. What often gave was women's employment and unfortunately this meant that some mothers stayed out of the labor force for a long time and it's been hard for them to re-enter."
For older workers, there has been a decrease in people coming out of retirement to re-enter the workforce. The reasons for this are unknown, but Thompson speculated that it was the fear of Covid.
Despite this trend, Holder pointed out that older workers leaving the workforce isn't unique. "During the Great Recession, older men were leaving the labor force in disparate numbers," said Holder. "I don't think it's especially unique to this time period," she said.