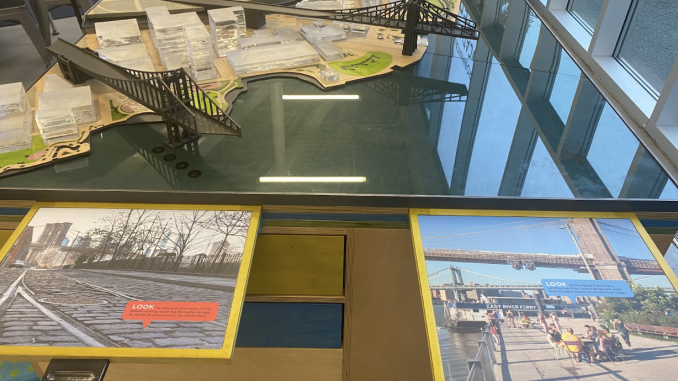 BY EMIN PURISIC
The Brooklyn Bridge Park Conservancy program hosts open hours at The Environmental Education Center where families and students flock to experience different exhibits. From maps of Brooklyn Bridge Park to aquariums, there are plenty of attractions in the room that keep the young ones coming back on Tuesday, Thursday and Saturday afternoons.
The Education Center feels like an interactive classroom with different activities for the kids to engage with. One of the walls of the room is glass, where if you look through you can see the piers and the water. Every month the theme of the Education Center changes –  right now it's weather. 
There is a board with the daily weather posted, a water bottle with something inside that resembles a tornado when you shake it, and blocks with different weather symbols on them around the room. Next month will be a theme they have never done before – Natives of New York.
Marley Kern, environmental educator, is enthusiastic about her job, and is welcoming to all visitors. When children walk in, she has to explain the rules to them, as they are not allowed to pull on or touch the fish tanks around the room.
"It honestly depends on the weather. On a day like today we probably won't get too many visitors, but on a sunny day after school we can get up to 75 people. We have a 25 visitor capacity and it runs on a first come first serve basis so sometimes there are wait times," said Kern.
Center staff say children are engaged in many of the center's activities, but seem to be particularly drawn to the aquarium. 
"I think anything within the aquarium is the most popular exhibit for the kids. They really enjoy seeing so many fish swimming around," said Haley Mclanahan, lead environmental educator.
She was right, as a little boy named Ethan was one of the first visitors of the day and screamed to his mom " Wow mom! Look at the fishies," when seeing a seahorse for the first time.
Before Open Hours on Tuesday Nov. 15, the Education Center hosted two different classes for a field trip. 
"To give the kids a nice warm place to come after school. They can learn a few things and enjoy themselves for a few hours before going home to do homework," said Kern.  "The majority of visitors we get are preschool or lower elementary, but we always try to have activities that would interest all ages."