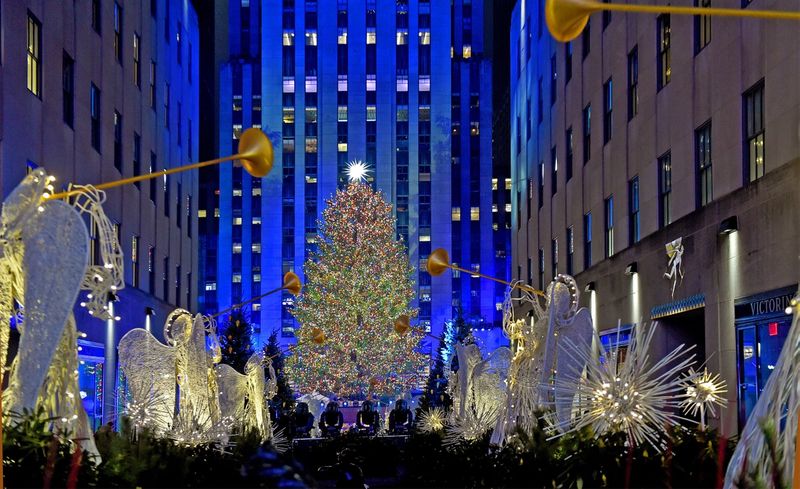 By CARMEN SAFFIOTI
A 75 foot-tall, 45-foot-wide Norway Spruce from Oneonta, New York was hauled to its destination in Rockefeller Center on Thursday but with a dangerous new surge of COVID-19 in full swing,
there will be no public access to this year's tree lighting ceremony.
That was the word from ceremony organizers while decisions on what visitors can see besides the and how they will see the tree were still being planned. In fact, the mere trickle of tourists into the city portends a gloomy holiday season in general.
"We don't have any updated figures quite yet but will be issuing our holiday release next week," said Christopher Heywood of NYC & Company. With no international tourists, and many locals staying indoors, Christmas in New York will be like no other.
Local businesses were expected to struggle to gain the much needed funds. The holidays are an essential time for businesses, especially many small businesses. With the lack of foot traffic from tourists, and no sign of a stimulus bill before the end of 2020, New York City businesses will have trouble during "the most wonderful time of the year."
The Macy's Thanksgiving Day Parade was scheduled to be held mostly virtually this year, with a one-block parade near Herald Square and so will Macy's Santa Claus visit, the retailer announced.
It got so bad that some Grinch trolls of the internet panned the tree itself.
"Could the Rockefeller Center Christmas Tree look any worse?" one social media Scrooge wrote about the tree that was noticeably missing foliage and branches on much of its lower half.
Others compared the tree to the scraggly one in the Charlie Brown Christmas special.
Ho-h0-ho.