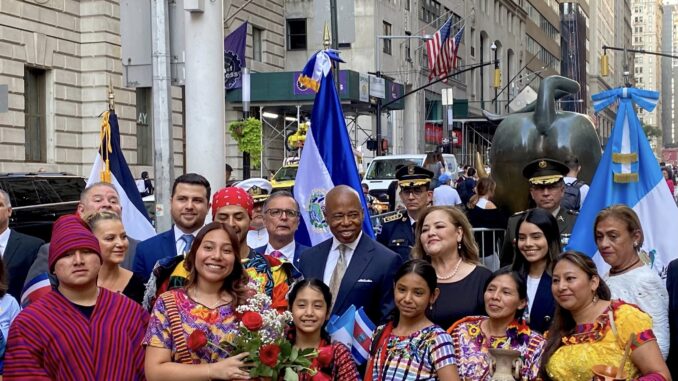 BY SOFIA CANONGE
On Tuesday afternoon, dozens gathered at Bowling Green beside the iconic Charging Bull to commemorate Central America's 200th anniversary of independence. Counsel-Generals of Guatemala, Honduras, Costa Rica, and El Salvador were present, providing speeches to thank and celebrate with their communities. Mayor Eric Adams delivered remarks emphasizing the importance of his administration coordinating celebrations such as this one to allow immigrant communities to feel seen and appreciated.
The four Central American countries' flags stood tall behind the podium while the counsel generals gave speeches. Each was delivered in Spanish and English so all listeners and attendees could understand. Many sang the same message, promoting unity and pride within the immigrant community.
"By celebrating our independence, we recognize and celebrate our roots, our culture, our traditions, and we pay tribute to those who have fought for our liberty and independence," Consul General of Guatemala Rosemary Arauz said in her speech.
Others used their time to encourage gratitude to the City's current administration and its efforts in welcoming and aiding immigrants.
"It is important to show our gratitude to this great city of New York that welcomes our migrants and provides them with the opportunity to grow and better their lives like no other city," Consul General of Costa Rica, Andrea Arroyo Mora, shared in her speech.
Estefania Ajpacaja, 41, from Panajachel, Guatemala, and her three daughters and sister Gabriela attended the ceremony in colorful traditional vestments. After migrating from Guatemala about six months ago, the family shared that they enjoy attending cultural events in New York City that honor their culture as a way to feel connected to home.
"We come to these celebrations to feel welcome and loved in this City. Moments like this motivate us to continue fighting after leaving our country and everything we know," Ajpacaja shared. 
Ajpacaja's daughters, Ximena, Karina, and Anahi, were all dressed in vibrant and floral or geometrically designed trajes (traditional Guatemalan hand-weaved and dyed cotton clothing that consists of a blouse, long skirt, and thick belt). They all smiled and recorded the whole ceremony on their phones.
"The celebration of our flag or independence may seem like little to others, but to me and my family, it is everything. It is a way of showing that this big City accepts us and sees us as another part of their community," Ajpacaja said.
Connecting with voters is evidently Mayor Adams' main goal, and what better way to achieve this by organizing events that recognize and share appreciation to many immigrant communities in the city. 
Flag ceremonies go way back to Adams' time working as Brooklyn's Borough President, and now has followed him into his term as Mayor. According to The New York Times, since taking office in 2022, Mayor Adams has organized multiple flag ceremonies celebrating over 30 different countries in collaboration with the Bowling Green Park Association.
In each event, Adams gives similar speeches that focus on sharing appreciation to many different countries and acknowledging the vital role immigrants play in the culture and economy of the city. 
"You should know that your culture and your country matters. This is the only country on the globe, I say over and over again, where you're told not to abandon your motherland as you embrace your adopted land. That is what makes us great. It's the coming together of our cultures. It's the uniqueness that we bring." Mayor Eric Adams said at Tuesday's ceremony.
Adams dived further into the topic to conclude his speech, encouraging New Yorkers to be more accepting of immigrants during today's immigration crisis. 
"And as we look at our new arrivals now that are coming here to this country, we only ask one thing that they ask: let them work. They want to work. They want to pursue the American dream. They want to be part of the experience of contributing to our societies like many of you have already."