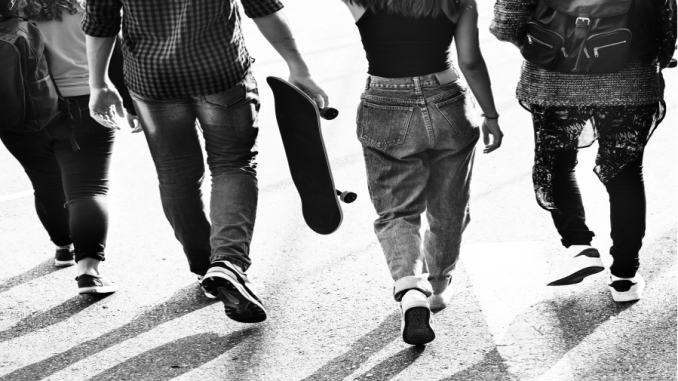 By ELSA AMAYA
The Department Of Education in New York City, the largest educational system in the United States, provides a variety of afterschool programs to engage teenagers. However, despite the importance of NYC afterschool programs, some students, like David Butler, and Deshawn Jackson, are not interested in the programs their school offers.
" I don't really like the afterschool programs they have in my school," said David Butler, a 16- year-old teenager who goes to the Academy for College Preparation and Career Exploration in Brooklyn's Erasmus Hall campus. Butler is among the students hanging around the neighborhood after school, many of them killing time in parks, or hanging around outside of buildings, Butler is always near Nostrand Ave, right on Linden Blvd hanging outside of a building with a big garden. "My mom is a single mother so she works most of the time and gets home at 7:00 p.m.. She knows I am here and tells me to not get in trouble," said Butler. He also said that if the programs were different he would probably be enrolled in one. "I did the soccer tryouts in my school, but they never called me and then I just didn't even try anymore."
Teenagers go to school from about 8:00 a.m. to 2:00 p.m., and right after school is when the afterschool programs begin. However, many students who are not enrolled in afterschool programs leave the school and instead of going home they hang out with their friends until their parents arrive home, which is most likely around the times of 6:00-7:00 p.m.
"I think the school needs to make afterschool programs a requirement for their academic needs," said Elizabeth Horstman, also known as "Cookie," who is a professional dancer and worked with teenagers in afterschool dance programs at M.S 352 in Brooklyn for over five years. "Many teenagers don't go home after school, and since their parents are working, they don't know what their kids are doing after school. Many of them get into trouble and get minor criminal records, then it's hard for them to find an actual job," said Horstman. She also mentioned that the number of girls attending her dance classes are greater than boys.
There are nearly 900 city-funded afterschool programs available for K-12th grade students across New York City, according to the Department of Education, including programs like Compass NYC, Sonyc, and Beacon. Beacon is designed to help students with academic needs like tutoring, homework, and book clubs. This program goes right after regular school hours; however, parents must fill out an application at the beginning of the school year. According to the Beacon program director Abraham Nyameh from P.S.6 in Brooklyn, many kids are able to walk home alone with the permission of a parent. "It is not guaranteed for all kids to get accepted, it goes by first come first served," said Nyameh. "For some students the older they get, the less they want to be in school, especially if it is for academic help, which a lot of them need."
Not all schools offer the afterschool programs being described in the DOE website. For example, if a student was interested in any of the programs described on the website, they must apply online or go to their counselor to help them get enrolled. And the program may happen somewhere in NYC, not in their school.
Deshawn Jackson who attends the same school as Butler, ACPCE, believes he was born with the gift of singing. "At first my friends and my parents thought I was joking when I told them I wanted to become a singer," said Jackson. "My parents told me to continue school so that maybe I could go to an art school when I go to college because they can't afford to pay for my singing lessons." Jackson has tried to look for after school programs to go to, but has not found any and his school doesn't have many programs.
A report made by the Afterschool Alliance group, a nonprofit organization advocating for teenagers to have access to better afterschool programs, said that about two-thirds of the state's youth who are not enrolled in afterschool programs wish to participate in one. Kelly Sturgis, president of the Afterschool Alliance, said, "For every child in afterschool, four are waiting for an available program." She also said that many students make decisions about participation in programs based on what their peers are doing.
The Afterschool Alliance collects data and works to get funding from the government to help create more programs.
After school programs are essential for teenagers. "After school hours can play a critical role in helping children and teens thrive in school and life," said Sturgis. "Quality afterschool programs increase young people's academic performance, support their social and emotional development, and promote health and wellness."
Sturgis continued, "Many programs provide protective factors that lead to a decrease in risky behavior, including during time outside of program hours."
She also said that some students might get inspired for their future. By attending Afterschool programs they put into practice some of their skills and  interests and discover they want to go to college to pursue a career.