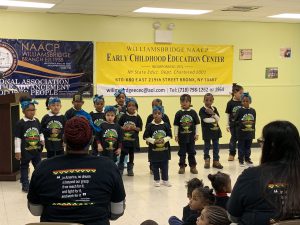 By Maya Dower-Johnson
The children of the Williamsbridge NAACP Early Childhood Education Center hosted its annual Black History Month Celebration, as they engaged in songs and poetry written by popular African-American artists.
The children made clear their pride in their heritage, as they danced around excitedly.
The school, which participates in the city's UPK (Universal Pre-K) program, for three- and four-year-olds, worked to teach the children about their history and the importance of knowing where they came from. Teachers stressed to the young ones that it should not be just one month out of the year that you celebrate your history.
Brian Melford, an official in Bronx Councilmember Andy King's office, reminded everyone of King's neighborhood motto: "People pay attention to people who participate."