By IAN MARSH
Marcia McLean, a  health care professional who lived with her extended family in the same Crown Heights apartment for nearly 30 years, says she didn't want to take the buy-out her landlord offered.
He had proposed to relocate her to another apartment in a less desirable neighborhood. She refused, but agreed to move out temporarily while her apartment was renovated. But when she tried to move back in, the landlord had changed the lock, saying the repairs were yet to be done, she said. So McLean joined the Crown Heights Tenant Union, a newly formed consortium of tenant associations.
Tenants in Brooklyn's gentrifying neighborhoods, angry over intensifying landlord attempts to oust them from rent-stabilized housing, are getting more organized to fight back. Despite recent favorable news coverage on gentrification on National Public Radio and in New York Magazine, these residents say that gentrification is making their lives extremely difficult.
That conviction led McLean to join a free run 3.0 v5 femmes demonstration outside 1059 Union St., an old, graying building in Crown Heights that is not the one she lived in, on a freezing February morning. Even though the circumstances many of the tenants complained of were dire – they say their quickly gentrifying neighborhood spurred on landlord harassment – the members of the union seemed jubilant as they told their neighbors about the injustice they had experienced. "They are not housing cattle; they are housing people!" one tenant cried.
The Crown Heights Tenant Union, founded last October, is just one of the many organizations, some newly formed, striving to combat a wave of landlord harassment that seeks to oust tenants from their long held, rent-regulated apartments.The union draws independent tenant associations into one organization, increasing the potential for "people power," said Cea Weaver, an organizer with the Urban Homesteading Assistance Board, a housing advocacy organization.
In city that is rapidly gentrifying and where nearly 50 percent of housing units are rent-regulated, real estate companies have a powerful incentive to deregulate rent-stabilized apartments. If a tenant continuously occupies an apartment, an owner can only increase rents by a small percentage each year. But if an apartment is vacated or the owner makes improvements on an apartment, he can raise the rent more drastically.  Once an apartment rents for over $2,500, it is no longer rent-stabilized and can be rented at a market rate.
The narrative of displacement of long-term residents is one that is often told about gentrification, but some question its accuracy.  Lance Freeman, an associate professor of urban planning at Columbia University, has argued in his research that poor people in New York don't move more frequently in gentrifying neighborhoods than in other more stable neighborhoods in the city.  In another study, based on census income data, he argued that people nationally are not more likely to move in gentrifying neighborhoods, although they are more likely to give a reason that could be classified as displacement, Freeman wrote in an email.
Freeman is often cited in articles that present gentrification in a positive light.  However, he supports tenant advocacy groups.
Other scholars have questioned the veracity of Freeman's conclusions. Thomas Angotti, a professor of urban planning at Hunter College, was not convinced by the conclusions Freeman drew from his data.  Figuring out how gentrification affected rates of moving would take a lot of original, research according to Angotti.
Judith DeSena, a professor of sociology at St. John's University, also questioned how reliable his conclusions were.  She said that qualitative analysis was necessary to figure out why people were moving, not just the quantitative analysis that Freeman performed.
Whether or not gentrification increases the rate of moving, the city has seen massive changes in its rental market.  Over 200,000 rent regulated units have been lost since 1981, according to the Furman Center for Real Estate and Urban Policy at NYU. Rents continue to increase across the board.  Last year, Bushwick led the way in rent increases for neighborhoods across the borough. Overall, rents increased for one-bedroom, two-bedroom and studio apartmentsin Brooklyn, according to an MNS Real Estate market report.
Bushwick also experienced a loss of nearly 2,500 rent-stabilized apartments from 2002 to 2008, a larger loss of rent-stabilized apartments than anywhere in Brooklyn.
A massive influx of relatively affluent professionals has made New York, and Brooklyn in particular, seem incredibly mobile.
The tenants who are a part of the Crown Heights Tenant Union and groups like it represent an oppositional force to this phenomenon.  Many tenants have lived in their apartments for over 30 years and have no intention of moving. To these tenants, many aspects of gentrification seem indefensible.
In neighborhoods where crime has dropped drastically over the past 20 years like Crown Heights and Bushwick―some of the fastest gentrifying neighborhoods in the city―tenants lived through the years in which it was dangerous to simply walk down the street, and now are unwilling to move from neighborhoods that finally seem to be improving.
"They're beautifying the neighborhood," Donna Mossman, a member of the tenant union, said at the protest in front of 1059 Union St., a five-story building built in 1927 with 32 apartments. "I've been here for 36 years. I want to enjoy that also."
Tenant advocacy groups are seeking to capitalize on the recent group of progressive politicians elected to city office. Jose Lopez, who works with Make the Road New York, which organizes around housing, workers' rights, education and immigration issues in Bushwick, said that Make the Road needs to work harder in the next four years than in the organization's 16-year history.
"We believe we can pass more progressive policy, especially around housing, in the next four years than we've done in the last 12 years of the Bloomberg administration," Lopez said.
Make the Road held a boisterous march through Bushwick on April 6 in which residents chanted in Spanish, banged on pots and demanded action against predatory landlords.If the protest was any indication of the possibility for cooperation with sympathetic public officials, Make the Road has much to be optimistic about.
Several public officials turned out for the event, including Rep. Nydia Velasquez, Councilman Antonio Reynoso, and Public Advocate Letitia James.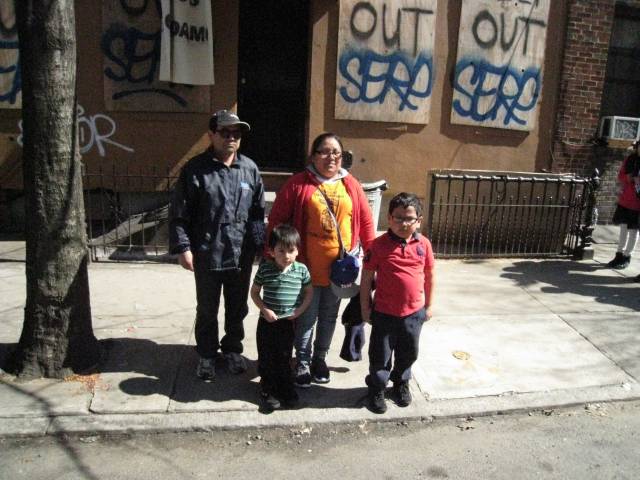 The diminutive Maria Pucha stood in front of nearly completely boarded up building on DeKalb Avenue in the heart of gentrifying Bushwick with Reynoso, Velasquez and James.  Pucha, her husband, and her two sons are the last family left in the building.  Only Pucha's windows are without boards, and "keep out" was spray painted in large letters across the boards in front of the windows.
The landlord seemingly wants to gut the entire building so he can renovate it and drive up the rents.  According to the Department of Buildings, the landlord has filed an application to renovate every apartment in the building for an estimated cost of nearly half a million dollars. Pucha said in Spanish that the other tenants in the building had already taken buyouts for between five and seven thousand dollars.  free run 4.0 v2 She said her family had been living under terrible conditions in the mean time. In 2010 her son got lead poisoning, but the landlord illegally painted over the lead paint, instead of removing it, she said.
Lopez hung a banner from Pucha's window, that said in Spanish "New York is our house" and "we're staying here."
Velasquez demanded that landlords who violate tenants rights should be in jail.
Despite the dire tone of the protest, when the march returned to Make the Road's office, the march turned into a dance party to salsa music.
The organization is not just an advocacy organization that pressures officials to change policy.  Its organizers and its members seem indistinguishable at times.
Angel Vera, a tenant organizer with Make the Road, was dancing before his interview with City Limits.
During our interview several families came into his office to ask for Metrocards, which he happily gave out.
Vera described how large real estate companies are buying up buildings with the explicit intent to deregulate apartments.  He maintained that some families are being told that landlords don't want to rent to Latinos and families with children.
The Brooklyn Housing Independence Project, another organization that is organizing in Bushwick, was founded over a decade ago and mostly aids tenants in their legal battles in housing court.
In January, it found a case so severe it organized a protest outside a landlord's apartment in Borough Park. Two tenants of the two first-floor apartments of 98 Linden St., Michelle Crespo and Noelia Calero, had their apartments upended when workers removed their kitchens and bathrooms under the guise of renovating them.
The residents of Borough Park gave the largely Latino protestors perplexed looks as they held pictures of their demolished apartments and shouted that "housing is a human right."
The Bushwick Housing Independence Project does not typically organize protests – its main role is to support tenants in court – but its gamble seemingly paid off as the protest sparked a wave of media coverage of the brazen strong-arm tactics of their landlord.
Their landlord, Joel Israel, has since become notorious as his buildings have been covered by a wide array of print, Internet and television media.  His strategy seems to be to demolish apartments to the point where they're nearly unlivable.  In a building in Greenpoint, tenants accuse him of sabotaging the boiler, and are currently locked out of the apartment by the Housing and Preservation Department, as reported by Pix11 News. At another building in Bushwick, tenants reported having no heat or hot water for months during the winter, according to Kathy Maire, the executive director of BHIP.  As with other rent-stabilized apartments that rent for far under market value, Israel is sitting on a potential goldmine that cannot be exploited unless his current tenants leave.
Israel's practices are perhaps the most extreme in terms of landlord actions, but many landlords use more subtle methods, or incentives in the form of large cash buyouts, to get tenants out of their apartments. Israel did not return phone calls seeking comment.
Weaver and Jonathan Furlong of the Pratt Area Community Council – who are both helping to organize CHTU – accuse some of the real estate companies of buying up properties that are primarily rent-stabilized with the sole intention of driving rent-stabilized tenants out so they can renovate the apartments, thereby deregulating them.
BCB Realty, which owns several buildings in Crown Heights that the tenant group is organizing, is a prime example of this, according to organizers. In the past several years BCB has bought up buildings in the neighborhood, that it refers to on their website as "undermanaged with ample upside."  Its website also claims that they work in "emerging marketplaces and prides itself on a proactive and ethical approach to management."  Furlong argues that language like this implies BCB Realty is acknowledging that properties with many rent-stabilized units have the potential to be far more profitable than they currently are.
BCB's finances provide harder evidence that it expect to deregulate apartments in their building.  According to an analysis done by the Urban Homesteading Assistance Board drawn from public finance records, BCB's current income from rent at 1059 Union St. would make a mortgage of $1,730,000 sustainable.  However, they currently have a mortgage for over $5 million and bought the building for over $8 million, according to real estate documents.
"There are two ways landlords can make that mortgage payment without going into foreclosure," Weaver said.  "They can push people out and raise rents or reduce services to the building. Or they can own a building that they're content to lose money on." Given that landlords are in the real estate business to make a profit, the last situation seems very unlikely.
The Urban Homesteading Assistance Board also provided blueprints from a BCB property on 1159 President St., that showed a proposed conversion of a three-bedroom to a four-bedroom apartment.  The apartment would have to be vacated to do the conversion, according to Weaver.
Multiple tenants at the protest in front of 1059 Union St. said their landlords offered them buyouts that were often tens of thousands of dollars.  BCB Realty, which only bought the building in 2013, is offering buyouts to long-term tenants while at the same time failing to adequately maintain the apartments of long term residents, according to Weaver.
Betty Rice, a tenant at 1059 Union, complained of the condition of her apartment and the building in general.  She said workers had done shoddy repairs on her apartment, and there were problems with heat and hot water, and bells in her building didn't work.  Even the new tenants who paid higher rent  came to tenant association meetings and complained, according to Rice.  She also complained of the buzzer not functioning.  At the same time, BCB offered her a buyout.
BCB Realty declined to comment for this article.
Complaints have become so pervasive that the Department of Housing city ation and Development has placed 1059 Union St. in its Alternate Enforcement Program.  Only 200 buildings are entered into the program each year, and are generally considered buildings with the most pervasive violations. Under the program, landlords are told to make necessary repairs within a few month time. If they still refuse, HPD will hire a contractor that they bill the landlord for.  According to HPD, the building  has nearly 350 open violations, including everything from leaking pipes to missing carbon monoxide detectors.
BCB is certainly not the only company attempting to convince tenants to leave through questionable methods. Toussaint Wortham, a member of the tenant union, who lives in a building on 1580 President St., said the management company, MDAYS Realty, is attempting to evict him because it claims he used an unauthorized contractor to renovate his kitchen.  However, he said that he only replaced the cabinets, and the previous landlord paid half of the $2,000 price of the renovation.
He said he believes the management company is retaliating against him for refusing a buyout of $30,000, which he initially accepted, but then declined after he felt like he was "selling out." He said he got in an argument with a representative of MDAYS, and at that point refused all contact with the management company.
Joseph Burden, of the law firm Belkin, Burden, Wenig, and Goldman, who represents the landlord of 1580 President St., said that Wortham had gutted his whole kitchen, including the electrical work, without a licensed contractor or permits and that was the reason he was being evicted.  free run 4.0 v2 femmes Burden also said that Wortham wanted over $100,000 to leave, an amount the landlord was not willing give. Burden said that Wortham had not informed the landlord that he got permission for the repairs from the previous landlord.
Wortham, seeming astounded at the management company's response, said that no judge would consider evicting him for installing cabinets, especially since he says he got the previous landlord's permission, but he believes that MDAYS Realty is hoping that he will tire of the harassment, give in and move out.
Forming a tenant association that is affiliated with the Crown Heights Tenant Union is a priority for Wortham, as he sees the need to teach tenants their rights and so they won't give in to harassment.
Organizing a tenant association in his own building has proved difficult however, as turnout at tenant meetings has been scant.  Wortham said tenants are intimidated because the management has security cameras throughout the building and the courtyard, and tenants fear they will be targeted if they go to meetings.  The management takes down his fliers advertising the meetings, and posted a "no trespassing" sign in the courtyard after tenants had a meeting there, he said.
"In my opinion the landlords are going to win ultimately," he said.  About half of the long-term tenants in his old building have moved out, and the landlord has raised the rent on those apartments, he said. Despite his fatalism, he said he may become an active member in the union, because he is "so passionate" about the issue of gentrification right now.
Wortham, an Access-a-Ride driver, dreams of buying a property of his own, where he can rent units out to tenants and treat them fairly. "I won't be trying to choke the little guy," he said.  "What do I know? I'm just a guy with an apartment trying to live my life."
Burden said he did not know if the landlord was taking down Wortham's signs for the tenant association, but he claimed that Burden was using tape that made it difficult to remove the signs from the wall.
Mclean, another member of the tenant union, has more severe problems with her landlord. Her landlord has locked her out of her apartment for nearly eight months.
While her landlord was renovating an apartment above her, the ceiling collapsed while she was in the apartment.  ZT Realty, the owner of the building, immediately relocated her into another, smaller apartment in the building.  In addition to fixing the ceiling, ZT Realty claimed that it would renovate her kitchen and bathroom, she said.  Representatives from ZT estimated the repairs would take four to six weeks and would be finished in September, according to what Mclean told City Limits and wrote in court records filed in Brooklyn Housing Court.  But as soon as she relocated to another apartment in the building, the locks were changed on her apartment, she said.
Mclean lives with her two sisters, two nephews, and a niece in the same building as her previous apartment, but feels cramped.  She also has not had access to many of her belongings that were left in her original apartment. Only in the past few weeks has management allowed her to walk through the apartment.  She said that although it had renovated the bathroom, the kitchen remained unfinished, her ceiling fan was hanging, and only half the apartment was painted.
ZT Realty offered Mclean a buyout before management locked her out of her apartment, but she declined the offer.  It also attempted to move her into a building in a far away neighborhood that she hasn't even considered, she said.  Mclean has lived in her apartment for nearly 30 years.  According to court records filed in housing court, she moved into the building in 1985.
"I can't move anywhere with that money," she said at the protest.  "It's retaliation. They're trying to get me frustrated so I move out," she added in a phone conversation.
Her building, located at Union Street and Franklin Avenue in Crown Heights, has a newly renovated apartment listed for almost $4,000 per month for a four-bedroom apartment.  Mclean said that  apartments below and above her, formerly three bedrooms, were being converted into four and five bedrooms and are being rented for over $3,000. Mclean currently pays under $1,000 a month for her apartment.  Her original apartment at 1045 Union St. is a three-bedroom, but her current apartment is closer to a two bedroom that was converted to a three-bedroom, she said.
Mclean wants to continue to organize with the Union so she can educate others about their rights.  She said that if she had not know to take management to court, she would be stuck in her situation.  Now, ZT Realty has finally agreed to let her move back into her apartment, although it has not completed the repairs as promised, she said.
ZT Realty, which Mayor Bill De Blasio classified as one of the city's worst landlords during his tenure as public advocate, pulls all sorts of dirty tricks to displace tenants, according to Weaver.  ZT Realty refused to take rent from tenants for a year, then demanded it all at once, she said. However, they told tenants they wouldn't have to pay the rent if they moved out, according to Weaver.
ZT Realty  declined to comment for this article.
"I wish more people would come out and fight," said Elaine Lewis, a member of the tenant union. "If we can all stand together we can do it together."
Photo, Top: Tenants demonstrate in February at 1059 Union St. in Crown Heights. (Ian Marsh)
Editor's note: A version of this article appeared earlier in City Limits.