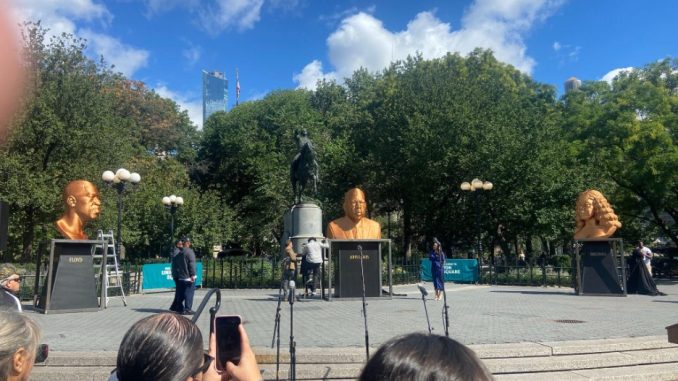 [Note to readers: The statue honoring George Floyd in Union Square was vandalized on Sunday (Oct. 3).]
By JULIAN WATSON
Last year throughout the Covid-19 pandemic, racial tensions soared and pent-up anger over police brutality broke loose in the country. Breonna Taylor, a Black woman of 26, was fatally shot by police in her home in Louisville, Kentucky in March of 2020. George Floyd was killed by a white police officer, who kept his knee on Floyd's neck, in front of video cameras for nine minutes and 29 seconds, in Minneapolis, Minnesota, in May of 2020.
On September 30, the ConfrontArt x Justice organization unveiled statues paying tribute not only to Taylor and Floyd, but to a revered Civil Rights activist/politician, the late John Lewis, who died in July of 2020. The statues were the center stage for a gathering at Union Square in Manhattan.
ConfrontArt x Justice partners with the We are Floyd organization. Speakers at a press conference held at Union Square Park included Floyd's older brother Terrence Floyd, as well as Dominique Sharpton, Rev. Al Sharpton's daughter, and Chris Carnabuci, who sculpted the three statues.
There were singers from the Sing Harlem Choir group.
"When Floyd died, we were locked into the moment," said Carnabucci. "My wife told me I need to do a statue of George. After (that) I did one of Breonna Taylor, and then Rep. John Lewis whom I truly admire."
Terrence Floyd told the gathering: "We need you to wake up and stay woke. We don't need to forget. I started We are Floyd because we need help. We need that support. My organization deals with the community and mental health issues."
Dominique Sharpton said, "We are going to do what we need to do in order to keep our people safe, and to keep our people progressing,"