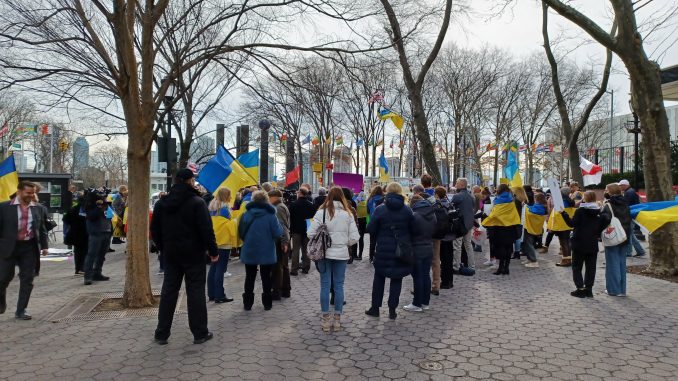 By GABRIEL SALAS
Amid growing tensions between Russia and the United States over the future of Ukraine, American-based Ukrainians are speaking out, saying they do not want any involvement with Russian President Vladimir Putin and instead want to join the Western military alliance, the North Atlantic Treaty Organization.
On Thursday morning, February 17, the Ukrainian Congress Committee of America [UCCA] held a rally outside the United Nations at the Dag Hammarskjöld Plaza in New York City to express their concern and anger over Russia's threat to take over Ukraine. They called for the United Nations to get involved, as Ukraine is an important powerhouse in our economic world.
"We as part of the free world cannot stand by and watch," Crystal Goldey, a member of the Ukrainian American Freedom Foundation said. "We are here to show the world why Ukraine matters."
The #StandWithUkraine Rally was attended by at least one hundred Ukrainian supporters organized by the UCCA. Many were older adults, but a smaller crowd of high schoolers also gathered to rally for the U.N to aid Ukraine in preventing a war with Russia and to express their devotion to their homeland.
"We have been planning this for weeks, but there have been other rallies before this one, a few in Canada and other parts of the country too," Yulian, one of the high school protestors at the rally, said.
Russia had amassed over 175,000 troops at the Ukrainian border as of February 16th, and U.S officials say there are signs that a Russian invasion could occur soon.
Putin has insisted that Ukraine is a fundamental part of Russia culturally and historically.
But Ukraine political leaders have expressed interest in joining the North Atlantic Treaty Organization [NATO] a Western alliance of the U.S. and European countries that have pledged to defend Ukraine against military threat.
"We are here to raise awareness about this because a lot of people our age aren't aware or being taught in class that there's a conflict," said Otloia Kade, a high school sophomore who was attending the rally. "My teachers don't even know that a war is even happening."
This conflict has been escalating since Putin was first elected to the presidency in 2000. He aims to reunify the former Russian republics back into one of the leading powers in the world, after the fall of the Soviet Union. Putin views any expansion of NATO as a menacing and existential threat to his country.
"In the words of their masters they are continuing the work of the Soviet Union," Andriy Dobriansky Representative of Ukrainian World Congress said.
"We support Ukraine! We support Ukraine!" The crowd at the rally chanted "Putin is a war criminal! Putin is a war criminal!"
Ukraine is one of the world's largest exporters of resources such as steel, coal, fuel, and petroleum products, chemicals, machinery, and transport equipment, and grains like barley, corn, and wheat. Its main trading partners are other former Soviet Republic countries bordering Russia, especially Kazakhstan and Belarus, as well as China and Turkey.
UCCA was founded in 1940 with the goals of enabling Ukrainian-American political campaigns and giving aid to the people of Ukraine. During World War II, UCCA conducted a war bond plan of $5,000,000 and helped Ukrainian war victims and refugees. The organization advocated for passage of the Displaced Persons Act of 1948, which allowed over 200,000 persons to enter the United States.