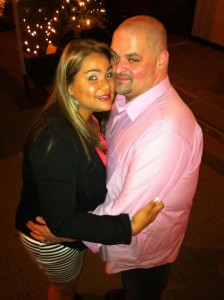 By SANDRA ALMONTE
It was only the beginning of a long and grueling nightmare for Lisa Urena, 27, and her boyfriend Matt Caputo, 30, when they witnessed the height of super storm Sandy in Howard Beach, Queens.
The couple had just moved into their newly renovated basement apartment in a two-story home in June. Sandy's flooding took away all their furniture, most of their clothes, TV set, cars. They were forced to start all over again.
"We lost close to $10,000 worth of stuff," Urena said. "Everything was great, and in one moment, we lost everything. We worked so hard for our things."
The adjustment has not been easy. Many, if not all of the storm victims have been waiting on the Federal Emergency Management Agency for help. "I applied online; they called, inspected the apartment, and got a response a week later. Apparently we didn't have enough damage," Urena said. "Apparently losing everything wasn't enough."
As their  apartment took on  water, the couple ran up and down the stairs trying to retrieve clothes and shoes. But the water came up from the  toilet and through the windows.
Jamaica Bay rose — and rose — and rose —into the streets and driveways, new jordan basements, living rooms, kitchens and dining rooms of Howard Beach. Lawns filled with garbage, car alarms went off, and police and National Guard troops arrived from Cross Bay Boulevard.
"This has been the worst I've ever experienced," Urena said. "We just couldn't believe all this, because it never crosses your mind that it's going to happen to you,"
It was close to 9 p.m. on Oct. 29 when Urena  posted a picture on Facebook of her apartment with up to five feet of water . "We lost everything," read the caption above the cell phone picture.
One neighbor lost her entire home. "It got off the foundation due to the water," Urena said. Another neighbor, from across the street, suffered damage due to flooding both in her basement and on the first floor.
Many basements in and around area canal that flows into Howard Beach had water up to the ceilings, some only receiving a foot or less. The neighborhood is in a Zone B evacuation area, so residents were not required to leave.
"They didn't make a big deal about evacuating. So we stayed," Urena said. "At 8:15 p.m. I got an emergency text message from AT&T, but it was already too late."
It's hard to say what this young couple's next step is going to be. Urena sighed and said: "I'm just happy to be alive."