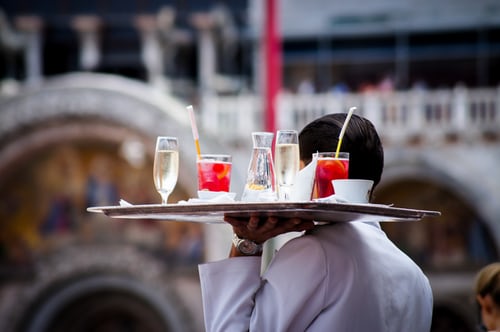 By ADAM ZAKI
As restaurants continue to struggle during the Coronavirus pandemic, it is the frontline workers of the industry that are taking some of the heaviest blows. Servers across Long Island have had to adjust to a complete revamping of restaurants and their service that is now entering what may be the industry's toughest months ahead.
"The transition has been pretty rough for sure" said Dan Sandoval, a server at two different restaurants in Bellmore and Amityville. "We went from being able to sit a full restaurant to having to literally turn the place into a giant "to-go" station. People didn't tip us well and for the most part, it was a bit rough."
When sit-down dining had been wiped out in the spring, Sandoval became a delivery driver  to supplement his income. He said he rues not leaving earlier, citing loyalty to his employer.
"I should've [gone] on unemployment looking back on it, but I stuck by one of the places I currently work at," he lamented. As his co-workers chose unemployment benefits over a pay cut, Sandoval was left with more work and less compensation.
"We would bust our asses for DoorDash and Grubhub and get nothing," he said. "They charge a delivery fee with every order so not only are we making less, but customers are paying more."
While a financial impact is unavoidable for some as in person dining has shrunk, other servers feel the changes to the industry are also physiologically impacting both their work and personal lives.
"It is so strange as a friendly outgoing person to feel isolated behind a mask all day," said Emma Hannan, a server at a popular Farmingdale steakhouse. "I talk to guests for hours at my table and I know a bunch about them but yet they don't even know what my face looks like, they don't truly know me."
Although Hannan hasn't had a hit to her income,  the biggest effect for her was the evaporation of social interaction with both customers and co-workers.
"No more late night grabbing a drink with friends after work. I'm wearing a mask all day then going home eating dinner alone and then going to sleep and the next day it's the same cycle" said Hannan. "I find myself in a very robotic life."
Hannan has toyed with the notion of pursuing another line of work.
"I've thought about getting a different job in a more stable, consistent field just due to reliability, because servers can't work from home," Hannan said. "We work off of tips and that's how we make a living, so if the restaurants close down we have nothing but hourly unemployment."
Ashley Illcete is a server at two restaurants in Amityville and Lindenhurst who says she is overwhelmed by enforcing restrictions on her patrons.
"We have to make sure [customers] are wearing masks if they get up to walk around the restaurant or go to the bathroom," said Illicete. We even had to tell people they aren't allowed into the restaurant if they don't have a mask, it is awkward."
As the future for many locally owned restaurants and their employees hangs at the mercy of both COVID case numbers and local politicians, frontline workers in an industry that has always promised employees good pay for hard work are helplessly watching as their jobs are fundamentally changing in a direction that is seemingly against them.