By MATT HIRSCH
The Families of Freedom Scholarship Fund held an event Thursday at the Intrepid Sea, Air, and Space Museum, announcing a new fundraising campaign. The campaign, called 3,000 Reasons to Give, aims to raise $25 million for a very good cause. It will make college available to family members of those who died in the 9/11 attack or who died because of illnesses related to the aftermath of the World Trade Center destruction.
The tragedy that took place twenty years ago changed the nation, and the world forever. Kathy Wisniewski, who lost her husband Alan in the attacks, was able to put her three children through college thanks to the fund.
"I am eternally grateful to the Families of Freedom Scholarship Fund," said Wisniewski. "I would not have been able to educate my three children through the college level, the graduate level, through law school without the benefit of their wonderful scholarships."
More students become eligible for the scholarship every day due to illnesses caused by the toxic air after the towers fell. Twenty years after the attack, the number of deaths caused by exposure to the toxicity is on track to exceed the number of lives lost in the attack itself. Rhianna Quinn Roddy, the Executive Director of the fund, explained the goals of the campaign, and how it came to fruition.
"Our goal is to send children to school. Many of our students are first-generation college attendees. And so our goal is to get the students that financial need they require to get into the school of their dreams," she said. "These students are kind, they're resilient, they're giving, and they're very, very deserving and they will be the future leaders of America."
At the event, a check of $115,000, raised by over 8,000 participants in a virtual run lasting 9.11 miles, was presented to the fund by Tina Lee, Chair of Scholarship America, an organization that raises funds to present scholarship awards to students in need.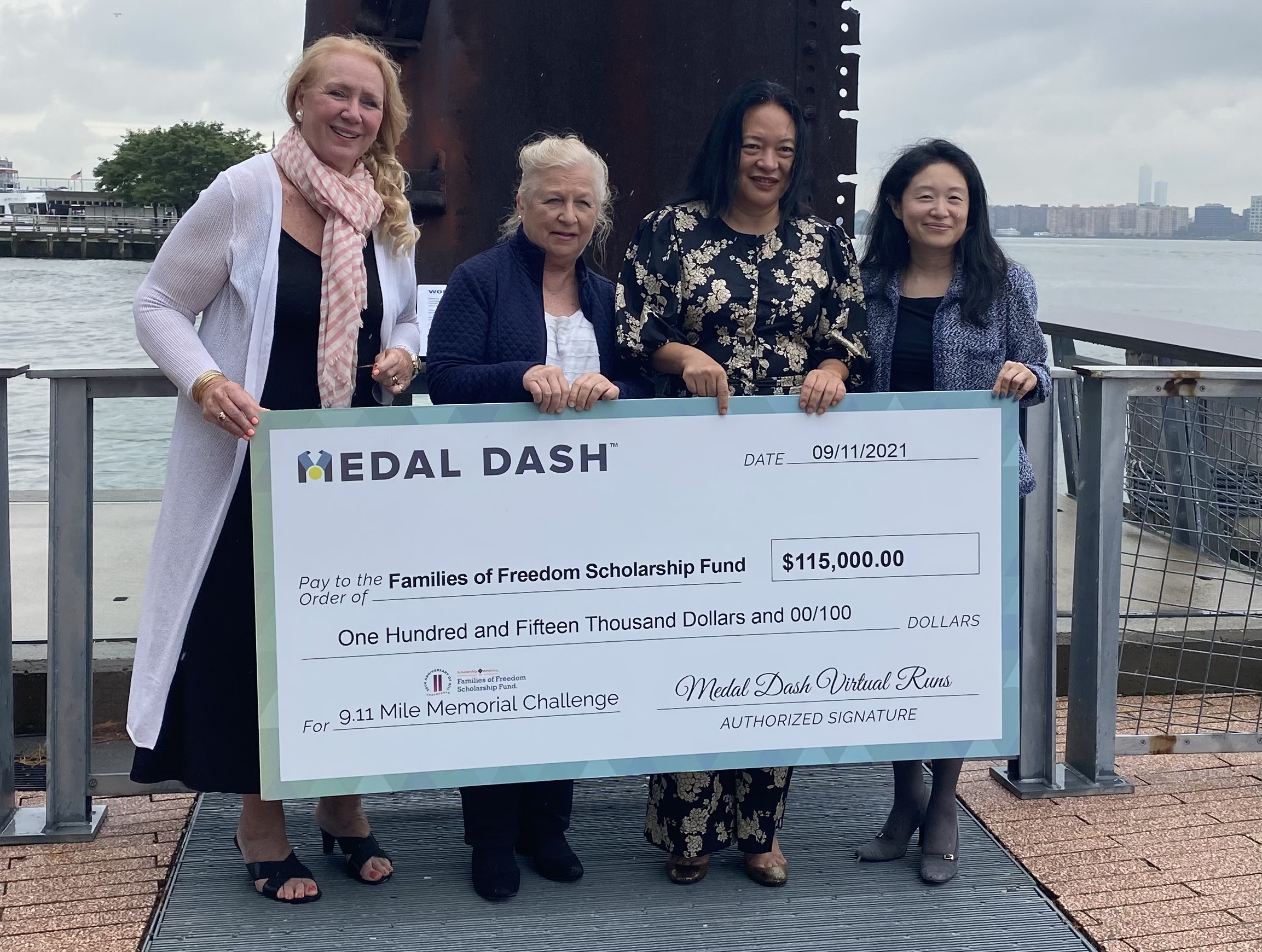 photo: Matt Hirsch. from left, Rhianna Quinn Roddy, Kathy Wisniewski, Dening Lohez, and Tina Lee, at the Intrepid Sea, Air, and Space Museum.