BY LAUREN KEATING
It is human nature to try to stand up when we are threatened, though many times when faced with natural disasters, people are overwhelmed. Superstorm Sandy smashed Staten Island hard. The peak storm tides reached 16 feet. Sandy's wrath caused 41 New Yorkers to lose their lives, 22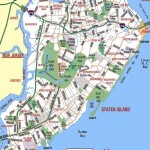 from Staten Island.
While some of those residents listened to warnings to evacuate, others stayed behind. Hope was lost when many people lost everything they had, falling to Mother Nature's fate. While the residents of Staten Island waited for relief from the Red Cross and FEMA, it was the youth that rose above the devastation to help those in need in an attempt to rekindle the fires of the Staten Island spirit.
"You face us with something like this and we're going to kick it in the ass," said Staten Island resident Gina Kohm.
Kohm, 24, is just one example of the leadership roles the youth on Staten Island have taken on to fight back. Starting from the day after the storm, she has organized deliveries of relief items such as food, clothing and hygiene products at 192 Ebbitts Street in the New Dorp neighborhood of Staten Island.  The distribution center is owned by Arianna Grand and was purchased three weeks prior to the storm as a catering hall. Now it is a place where residents come to seek heat, food and supplies as mountains of clothes, many brand new with tags that are piled high along with items are placed neatly in a supermarket fashion.
New Dorp Beach was one of the areas hit the hardest during the storm. roshe run flywire Residents and volunteers walked around the neighborhood that resembled a ghost town with masks to protect them from health risks. Some of the volunteers including Kohm suffered from coughs, but that didn't stop them from giving up their time—and their health–for those who desperately were seeking aid. Houses were found on a tilt, in a fashion that Kohm describes are being a scene from the "Wizard of Oz", where others are just completely destroyed.
"This is something that you see on the commercials while Sarah McLachlan is playing that sad music and she wants you to donate $20 for the month. This is something you see in a third world country when you see the babies climbing over the mountains of dirt. This is like not something you would ever see or expect to see here especially here in Staten Island," Kohm stated.
"I was raised with everything and anything. And that's how Staten Island is–everyone is always competing to have bigger and better things. But in seconds, the water literally went from inches to feet. In seconds, your life can be washed away," said Kohm.
Even though her family home was personally unaffected by the storm, on a borough like Staten Island, everyone knows everyone, causing every resident to know at least someone who was affected in a life shatteringly way. Consequentially, she couldn't just sit back at watch.
"It doesn't hit a race, or a gender – it's everyone and it's home. It's not a house that's washed away, it's homes. You're displacing people from homes. It's not something you can stop like a terrorist attack, it's not something you can fight off," she said.
Kohm, who works for Arianna Grand, but has been a vital volunteer, arrives at 192 Ebbitts Street around 9:30 a.m. and stays until refugees stop coming in. The distribution center has no set closing time–their philosophy is to help anyone who needs it not matter what time it is. She receives daily shipments from all over the country including gas sent from West Philadelphia.
Kohm stated how her life has drastically changed. She wakes up every morning with her mind racing, thinking about how she has to open to distribution center and constantly runs through the list of everything she needs to get done. "Your normal day of the things that you thought mattered doesn't matter. It's just so amazing how this can change people's lives."
Kohm has made a huge impact on the residents of New Dorp. With her help residents in the area, including those on Navesink Place received the items they needed the weather the aftermath. "I will keep these people for the rest of my life," said 52-year-old Navesink Place resident Victoria Kostyuka.
While volunteers helped Kostyuka clean up her damaged house where she lives alone with her cats, she spoke about how Kohm was her lifeline, as she was the only source to allow her to charge her phone immediately after storm. Kohm was also able to get Kostyuka a generator that was shared with her neighbors who live with a sick family member that couldn't evacuate.
"Gina is doing everything for the entire community," Kostyuka said with tears in her eyes as she recalled experiencing the devastation caused to her house and car. With no means to get around and seek help, Kohm assured she would have everything she needed and the manpower to help with the cleanup.
"I'm going 100 miles per hour," said Kohm.
But Kohm isn't the only key player in the young community. Michael Maugeri, 26, has also stepped up to the plate during a time when many believe that the Red Cross was striking out. As a former lifeguard, he acted as a first responder near roshe run flywire femmes the Staten Island Mall. But after receiving calls about the help needed in New Dorp, he jumped at the opportunity to assist in relief efforts by rescuing people out of their houses, helping in clean up and bringing supplies.
"The following day when I went down [to New Dorp] after the storm and people were starting their clean up, the people who were hit the worse were the nicest people ever. They had smiles on their face, they were making jokes as they were throwing shingles around, so that the uplifting part of it," said Maugeri. He continued, "I can't believe these people are still happy to have their lives."
Maugeri organized a toy drive in memory of Brendan, 2, and Connor, 4, Moore who tragically lost their lives during the storm. "I realized there was nothing for kids. There was a Red Cross truck down at the bottom of New Dorp and I saw this little kid and he got a cup of apple juice and the guys said, 'Do you want some Oreos with that?' He was so excited over these Oreos. I wish I had something to give him, so I organized a toy drive," stated Maugeri.
With the help of HelpStatenIsland.com, Maugeri received phone calls from Pennsylvania, New York City and Long Island asking where they can bring toys. "My mind is going a million miles a minute, but I know I have a strong team behind me," said Maugeri before the drive.
Maugeri received over 500 responses from people wanting to donate, resulting in an excess of toys. Maugeri made arrangements with Operation Sandy Claus so that the remaining toys will be given to children in need during the holidays. "People are definitely noticing, but it's more on the local level," he said about spreading awareness of his cause.
On Sunday, November 11, a crew consisting predominately of young adults gathered together to collection donated toys that were than distributed to New Dorp. Maugeri, an actor, is also involved with planning a fundraiser for the victims of Sandy at the St. George Theater called Steve Standuls Presents Staten Island Stands Together.
But while the youth of Staten Island have been lights of hope for those in need, the Red Cross and FEMA have been criticized for the immediate work that was not provided.
A week after the storm, Maugeri stated, "I think even in the midst of all this, we are still not getting the attention we need. It's the relief efforts are coming from our own people, from Staten Islanders our victims themselves, rather than the Red Cross or FEMA we haven't seen. I've seen one Red Cross truck this whole time."
According Red Cross Communications Officer Michael de Vulpillieres, to date the Red Cross has distributed more than 300,000 relief items to the residents of Staten Island that include: flashlights, blankets, clean-up supplies, hygiene items and batteries. They have provided nearly 400,000 meals and snacks to Staten Island residents. Right now, more than 20 Red Cross vehicles are distributing relief items and food to Staten Island residents and have focused on neighborhoods that include: Midland Beach, New Dorp Beach, Oakwood Beach, Tottenville, Great Kills, West Brighton, and Cedar Grove Beach.
Although smaller scale relief efforts from the Red Cross began immediately after the storm, de Vulpillieres stated that the larger scale efforts began on November 1st. This included Red Cross volunteers, as the Red Cross is made up of 90 percent volunteers, and other New Yorkers going door to door with relief packages for those who couldn't mobilize to the main distribution centers.  The Red Cross has raised more than $150 million and spent nearly $70 million on to provide food and other needed supplies.
"We understand that there were frustrations early on. There were some communities that were frustrated because they had a hard time accessing our supplies, but as the days have gone by, were able to bring in more supplies," de Vulpillieres stated.
He said that the Red Cross has worked with those volunteering outside the Red Cross as well including those associated with government and non-government organizations to help service as many people as they could. "No organization can respond by themselves, roshe run hyp particularly to this type of disaster."
Like many of the volunteers, Kohm said she has been assisting in relief efforts "because the government at first did not give us the help we needed right away." She did note that FEMA and the Red Cross have been assisting in New Dorp. "They are out there and trying to help, but it's going to take time and it's not going to happen overnight."  However, initially, it was the local communities who really made an impact. "Did the government give enough help? No. If we weren't here, would the people have the supplies that have? Absolutely not. "
"I've heard that FEMA is doing good from the news and then I heard personally that FEMA is doing horrible," said Maugeri. A representative from FEMA could not be reached at this time.
But with 1500 youth volunteers in the New York City Red Cross, the organization has seen one third of them stepping forward to help after the storm. "The Red Cross has a tradition in engaging the youth," stated de Vulpillieres. He emphasized that he has seen strong motivation from the youth volunteers, as they have been helpful in the distribution efforts, as well as raising money and spreading the word via social media.
As much as young people have become leaders in the relief work, the communities as a whole have worked together. "I was down in New Dorp Beach and the damage was tremendous. And we saw the local community really come out to support the operation," said de Vulpillieres. "What blew me away is the outpouring of help from the community. So many people want to help. It's just wonderful to see," he added.
"Staten Islanders are really the ones who are pulling together," declared Kohm.
Although the efforts from the Red Cross have been criticized, they continue to help until Staten Island is back on its feet. "We're not leaving Staten Island. We are going to be here for the long haul. We are still in that initial phase and we're not leaving anytime soon," stated de Vulpillieres.
Maugeri summed up the spirit on the island perfectly. "Everyone is Staten Island proud because we definitely gotten together and we've definitely hold our own."